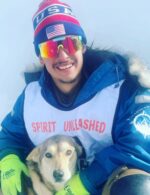 Biography
I am a second generation musher from Milan New Hampshire I have been running dogs since I was three years old. Ever since I began mushing with my family I have aspired to one day take on the Iditarod Trail which is the ultimate test of mushing abilities and a true testament to the connection that I have with my dog team.
I have traveled throughout the USA, Canada and France competing in some of the world's most famous and challenging races and I look forward to taking on the Iditarod trail which has its own demanding aspects. My current dog team ranges in age from 3-8 years old and quite a few have some experience on the Iditarod trail. I am excited to see their athleticism and determination on this race and with a lot of hard work I hope to cross under the burled arch in Nome with a happy and healthy dog team.
When I am not running my dog team I am the owner of Northern Exposure Outfitters Dog Sledding Equipment which helps those who are new to dog mushing and seasoned mushers find the gear that's right for their team. During the summer I am also a seasoned raft guide and carpenter/ entrepreneur.
2023 Standings
Checkpoint
Time In
Dogs In
Time Out
Dogs Out
Rest Time
Previous
Layover
Status
Distance
Enroute Time
Speed (mph)
8hr
24hr
Willow
3/05 14:02:00
14
Yentna
3/05 18:03:00
14
3/05 18:08:00
14
0h 5m
4h 1m
10.46
42
Skwentna
3/06 02:21:00
14
3/06 02:47:00
14
0h 26m
8h 13m
3.65
30
Finger Lake
3/06 11:58:00
14
3/06 12:03:00
14
0h 5m
9h 11m
4.36
40
Rainy Pass
3/06 15:58:00
14
3/06 22:40:00
14
6h 42m
3h 55m
7.66
30
Rohn
3/07 02:53:00
14
3/07 07:04:00
13
4h 11m
4h 13m
8.30
35
Nikolai
3/07 21:51:00
13
3/08 03:43:00
13
5h 52m
14h 47m
5.07
75
McGrath
3/08 10:21:00
13
3/09 11:23:00
13
25h 2m
6h 38m
7.24
48
Takotna
3/09 13:26:00
13
3/09 13:30:00
13
0h 4m
2h 3m
8.78
18
Ophir
3/09 16:11:00
13
3/09 20:18:00
13
4h 7m
2h 41m
8.57
23
Iditarod
3/10 12:04:00
13
3/10 18:45:00
13
6h 41m
15h 46m
5.07
80
Shageluk
3/11 02:35:00
13
3/11 10:53:00
12
8h 18m
7h 50m
7.02
55
Anvik
3/11 14:14:00
12
3/11 16:31:00
11
2h 17m
3h 21m
7.46
25
Grayling
3/11 19:09:00
11
3/11 19:27:00
11
0h 18m
2h 38m
6.84
18
Eagle Island
3/12 08:11:00
11
3/12 13:04:00
11
4h 53m
11h 44m
5.28
62
Kaltag
3/13 00:56:00
11
3/13 07:47:00
11
6h 51m
11h 52m
5.06
60
Unalakleet
3/14 00:04:00
11
3/14 06:30:00
11
6h 26m
16h 17m
5.22
85
Shaktoolik
3/14 12:27:00
11
3/15 12:53:00
11
24h 26m
5h 57m
6.72
40
Koyuk
3/15 18:41:00
11
3/15 23:33:00
11
4h 52m
5h 48m
8.62
50
Elim
3/16 04:40:00
11
3/16 09:33:00
11
4h 53m
5h 7m
9.38
48
White Mountain
3/16 15:04:00
11
3/16 23:04:00
11
8h 0m
5h 31m
8.34
46
Safety
3/17 05:09:00
11
3/17 05:11:00
11
0h 2m
6h 5m
9.04
55
Nome
3/17 07:49:57
11
2h 38m
8.35
22