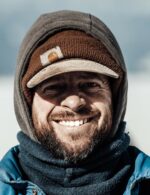 Biography
Jed grew up in Germany as an American Army brat. In their home was a set of moose antlers his dad brought with him from Alaska. They seemed to always point to the northern country as the place he must go to for self discovery. His dad read to him a book about mushing by Gary Paulsen that convinced him that what those moose antlers were saying was true.
Later he learned how to train sled dogs working with Billy Snodgrass outside of Jackson Hole, Wyoming and then furthered his training in Alaska with Linwood Fiedler and Gabe Dunham.
After marrying his beautiful wife, Amy and having twin boys they settled down in Northern Idaho. He and his dad built a small cabin in the woods for his family, bought a couple of sled dogs and started working towards the dream of running the Iditarod.
As he and his dogs have grown together they have forged a bond of loyalty and trust through thousands of miles of travel in the mountains.
Jed has received the award, 'Best Cared-For Team' in Eagle Cap 200 and Idaho Sled Dog Challenge 300 and received the 'Sportsmanship Award' at the Race to the Sky 300 for catching a runaway dog team. He also is one of only four people to finish the Rocky Mountain Triple Crown which includes 800 miles of racing over three and a half weeks.
The journey to the Iditarod has been a pilgrimage into his soul where he has discovered the value of family, grit, loyalty and has found God.
2023 Standings
Checkpoint
Time In
Dogs In
Time Out
Dogs Out
Rest Time
Previous
Layover
Status
Distance
Enroute Time
Speed (mph)
8hr
24hr
Willow
3/05 14:50:00
14
Yentna
3/05 19:07:00
14
3/05 19:17:00
14
0h 10m
4h 17m
9.81
42
Skwentna
3/06 04:13:00
14
3/06 04:24:00
14
0h 11m
8h 56m
3.36
30
Finger Lake
3/06 09:28:00
14
3/06 15:50:00
14
6h 22m
5h 4m
7.89
40
Rainy Pass
3/06 19:36:00
14
3/06 23:30:00
14
3h 54m
3h 46m
7.96
30
Rohn
3/07 03:33:00
14
3/07 07:34:00
14
4h 1m
4h 3m
8.64
35
Nikolai
3/07 22:20:00
14
3/08 03:42:00
13
5h 22m
14h 46m
5.08
75
McGrath
3/08 10:20:00
13
3/09 10:36:00
13
24h 16m
6h 38m
7.24
48
Takotna
3/09 12:51:00
13
3/09 12:55:00
13
0h 4m
2h 15m
8.00
18
Ophir
3/09 15:47:00
13
3/09 20:23:00
13
4h 36m
2h 52m
8.02
23
Iditarod
3/10 12:35:00
13
3/10 18:55:00
12
6h 20m
16h 12m
4.94
80
Shageluk
3/11 07:10:00
12
3/11 07:45:00
12
0h 35m
12h 15m
4.49
55
Anvik
3/11 11:20:00
12
3/11 20:08:00
12
8h 48m
3h 35m
6.98
25
Grayling
3/11 23:05:00
12
3/12 05:58:00
12
5h 53m
2h 57m
6.10
18
Eagle Island
3/12 13:25:00
12
3/12 19:40:00
12
6h 15m
7h 27m
8.32
62
Kaltag
3/13 12:06:00
12
3/13 15:09:00
12
3h 3m
16h 26m
3.65
60
Unalakleet
3/14 10:24:00
12
3/14 16:33:00
11
6h 9m
19h 15m
4.42
85
Shaktoolik
3/14 22:42:00
11
3/15 13:00:00
11
14h 18m
6h 9m
6.50
40
Koyuk
3/15 19:42:00
11
3/16 04:10:00
11
8h 28m
6h 42m
7.46
50
Elim
3/16 10:24:00
11
3/16 16:32:00
11
6h 8m
6h 14m
7.70
48
White Mountain
3/16 22:16:00
11
3/17 06:33:00
10
8h 17m
5h 44m
8.02
46
Safety
3/17 12:55:00
10
3/17 12:57:00
10
0h 2m
6h 22m
8.64
55
Nome
3/17 15:44:24
10
2h 47m
7.90
22