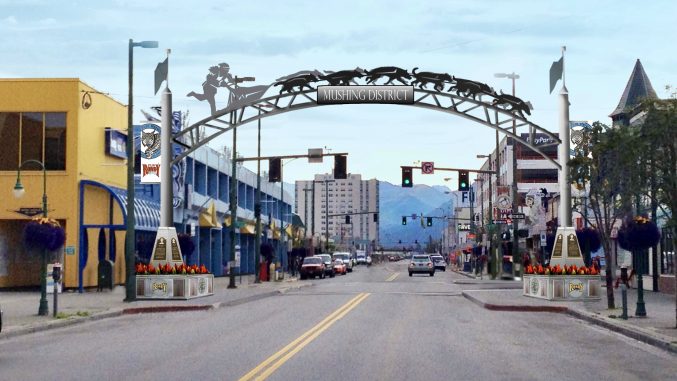 Each year in late February and early March Anchorage's 4th Avenue transforms into an epicenter of sled dog racing. The Iditarod and World Championship races thrill spectators from around the world. Now, by mayoral proclamation 4th Avenue from A to G Streets is officially the historic Mushing District.
Located at the start line of the Iditarod and the World Championship Sled Dog Races, the focal point of the Mushing District will be a steel truss arch spanning across 4th Avenue with the silhouette of a dog team and musher racing across the arch.
The Mushing District plan includes informational/interpretive signage and a walking museum describing the history of sled dog use in Alaska. Featured stories include the history sled dogs as an integral part of indigenous cultures, the pivotal role they played as a companions to "chechakos" who traveled up the Iditarod Trail in search of gold, and their heroic run from Nenana to Nome to deliver lifesaving serum to children in 1925. The evolution of the modern racing sled dogs will be highlighted as well as their care and training. The Mushing District will share the real story of Alaska's state sport, "Sled Dog Racing".
Banners and plaques will be hung and mounted celebrating famous sled dogs and mushers.  Famous Iditarod Mushers and sled dogs will be honored on the North side of the street and famous World Championship winners will be honored on the south side of the street.
A Mushing Hall of Fame will be housed in the Fur Rondy shop on 4th Ave. Commemorative bronze dog paw and Husky Silhouettes are being sold to raise funds for the project. They are engraved with the name of the donor or an honoree, and they will be embedded in the sidewalks of the Mushing District. 
This visual and educational interpretive of Mushing will be a major visitor attraction, economic stimulus for downtown and an iconic destination for Anchorage. Both the Iditarod and the Fur Rondy are committed to creating ongoing awareness the greatest athlete on the planet, the Alaskan sled dog.  
For more information and how you can get involved in developing this salute to sled dogs and mushers go to anchoragemushingdistrict.org.