"A Wonderful Life"
Reminiscing on the Past 42 Years While Looking Forward to Enjoy Retirement

By Greg Bill
Followed by:  A Few Stories Shared About Greg as We Honor Greg for his Years of Service and a Photo Scrapbook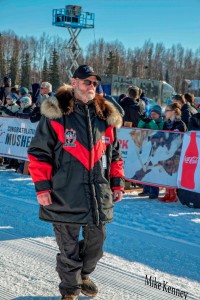 After almost 42 years of Iditarod being "My Life," it's time for me to say farewell. I have so many fond memories of the people that I have met, that it would be impossible to list them all. I've had the good fortune of developing relationships with Sponsors, Board members, Volunteers, and Staff, that combined, has made it "One Great Ride". I don't regret any of it, and I know that I am truly going to miss it when I retire later this year. It definitely was not planned in advance, and it was not an easy decision for me to make, but after having cancer surgery this past October, I realized that my future is not entirely in my hands, and I want to spend more time with my family and do some traveling while I still have the opportunity.
I'll never forget the day that I was hired as Iditarod's Executive Director. It was during an Iditarod Board meeting on April 1st, 1984, and one of the first marching orders the Board of Directors gave to me that day was to double the prize purse for the upcoming 1985 Race. I knew it was not an April Fool's joke, and I gladly accepted the challenge, and was pleased to fulfill their wishes while still keeping Iditarod in the black. The stage was now set for more prize purse increases throughout the following years, and undoubtedly for many years to come. In 1986 I moved to the position of  Development Director, raising more than $45,000,000 in Sponsorship revenue to support the Race, and working with our Sponsor is what I will miss the most.  
In 1984 you had to wear many hats, because outside of my position as Executive Director, there was one other full time employee and that job was shared by Jean Clark and Cheryl Sutherland, and one part time employee, Joanne Potts. We faced many challenges, but the rewards were just as great, and we all bonded as an extremely focused team, and that type of teamwork prevailed during those lean years of Iditarod. I'd be remiss if I didn't thank Joanne Potts for her continued help and support during the past 30 years. If Joanne had a dollar for every time I asked her "have you got a minute," she could have retired a millionaire. And I want to thank Stan Hooley for his dedication and professionalism these past 20 years. I've enjoyed it tremendously.
I have identified some of the best "Feel Good" moments of my almost 42 years of Iditarod involvement. They represent a reflection of my love for the Race, the people, the dogs, and first and foremost, the "Father of the Iditarod," Joe Redington, Sr.
My tenure with Iditarod started way back in 1973 as a volunteer for the first Race and I continued volunteering, selling raffle tickets, business memberships, and whatever else was needed, until being hired as staff in 1984. I also served two years as vice president of the Board from 1982 to 1984. Then in 1986 I was appointed to the Iditarod National Historic Trail Board as the Iditarod representative, replacing Susan Butcher who wanted to step down to devote more time to her racing career. I have served on that Board continuously to the present day.  Quite honestly I still consider myself an Iditarod volunteer every year since we all do things outside of our "job description" to get the job done.
My proudest achievement of the following "Feel Good" moments was creating the Fred Machetanz Iditarod print fundraiser in 1984. One of my first sponsor calls as the new Executive Director was to see Dick Angell of Bank of the North, Iditarod's Official Bank at the time. After Dick agreed to another year of sponsorship, he dropped a bombshell on me. He wanted me to CLOSE the Trust Account since it had less than $600 in it, and it wasn't worth their time and effort to administer. Joe Redington, Sr. had set this account up to protect Iditarod from bankruptcy should the Race ever fall on hard times. Dick argued that $600 wasn't going to do anything to save the Race. I told him that closing this Trust Account would break Joe's heart, so I got him to agree to give me one year to put some 'real money' into the account. I put the fundraising print together, got all previous Iditarod champions to sign it, and even left a spot for the 1985 champion to sign. The print sold out in three days and raised $210,000 for the Trust Fund. This fulfilled Joe's dream and served to help us through some 'rainy days.'
The other things that I accomplished don't come close to saving the Trust Fund, but they are fond memories to me. Things like introducing the Garland of Roses presentation at the finish line in 1985 instead of at the Awards Banquet. But then of course I had to come up with a fitting Awards Stand for successive years, since the first one was makeshift with Libby's dogs doing a balancing act on top of a truly Alaskan  55 gallon drum. Starting the tradition of using a Native made Mukluk at the '85 Mushers Banquet for the drawing of their bib numbers, and hanging the Country flags of competing mushers next to the START/FINISH banner. Researching and writing the first Media Guide in 1984, with much of it still in use today. Doing the 10 year fundraising print by Charles Gause beginning in 1988, signed by famous mushers, which raised close to $100,000 annually. Bringing back the Iditarod Raffle in 1990 after it was abandoned in favor of Bingo. The Winter and Summer Raffles now gross $600,000 annually. And, from a visitor's perspective coming to our Wasilla Headquarters, getting ExxonMobil in 1987 to donate the redwood sign out front, and in 2012, getting Kim Raymond and Horizon Lines to donate the bronze sculpture of Balto and monument base in front of ITC Headquarters, representing the loyalty and fortitude of all Alaskan sled dogs. And last but not least, I've been fortunate to be involved at 41 of the 42 Iditarod Starts, and 40 of the 42 Nome Finishes. These, along with the bronze sculpture of Joe Redington, Sr. are fitting examples of welcoming visitors to the Headquarters of "The Last Great Race on Earth."
These are all very fond memories of mine, and it's a very hard decision for me to call it quits after all these years, but I realize that I must. However there is one last request that I would like to ask of all of you, whether you're an Iditarod Sponsor, a volunteer, or a fan. Fifteen years ago when Joe Redington, Sr. was dying, I was able to meet with him one last time. Even as ravished as he was, I could tell from the look on his face that he had something very pressing on his mind. He confided to me that he was worried that "his Race" might also die after he was gone. I told him that he didn't have to worry about that because there were too many people that cared about the Iditarod to ever let that happen. And I told him that as long as I was around, I would never let that happen. That brought a look of relief to his face, and even one of his famous crooked little smiles. I truly felt that Joe now knew that he could go in peace. My request to all of you is to continue to carry out my promise to Joe, and see that "his Race" will never die.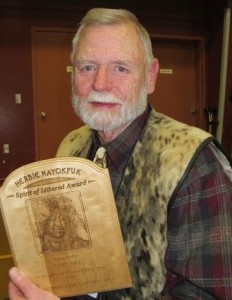 At the Nome Banquet this year, the Iditarod Board of Directors presented me with the "Herbie Nayokpuk Spirit of Iditarod Award." I felt truly honored to be in the company of Dick Mackey, the previous recipient of this award.   Plus, Herbie and Elizabeth were very special friends of mine, and Herbie epitomized the true spirit of an Alaskan Native musher, and was a true Icon of the Iditarod. To receive this prestigious award was very humbling, and I will treasure it forever.
To all of you, "Thanks for the memories."
Greg Bill
*Thanks, Greg!
We're wishing you the best of adventures on your 'retirement trail!  We  look forward to catching up with you as the days go by and hearing about your new adventures and hearing more about the history of the race from your perspective.
Stories Shared….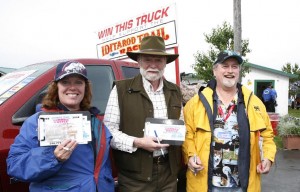 It has been my pleasure to work with Greg Bill. He called me up 20 plus years ago and asked if I would sell raffle tickets at the Alaska State Fair with him. I said yes, and years of laughter have ensued. We have worked in the sun, the wind and the rain selling tickets and challenging each other to sell more than the other.
Greg is a practical joker extraordinaire. This is a side of his personality that you don't see very often in his day to day job as the Development Director for the Iditarod Trail Committee.
Now I wouldn't say that I am gullible, but he has got me many times. He told me once that he had seen a local advertisement for sword fights at the local nursing home. He sent me to hear a Celtic band on my lunch hour at the fair that turned out to be a German oomph band that played "Roll out the Barrel" and the audience followed that by dancing to the "Chicken Dance".
You just never knew what mischief he and his partner in crime fellow Iditarod volunteer Dale Meyers, would be up to, and drag me into.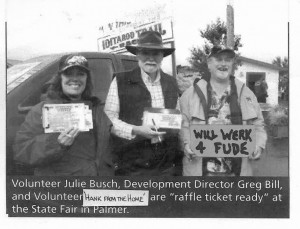 One funny story about Greg that still makes me laugh today is when Jeff Schultz, Iditarod photographer, stopped by the booth at the fair and took our picture with our clipboards displayed selling raffle tickets. It was a nice picture of all of us…but that didn't suit Greg's mischievous side, he doctored up the picture by blackening Dale's front teeth and wrote on the clipboard "Will Werk 4 Fude" and under the picture where our names were listed Greg changed Dales name to "Hank from the Home". He hung the doctored picture in his office in plain sight for all to see. Every time I go into Greg's office there is Dale staring at me with a smirk on his face and his front teeth all blacked out and I laugh.
I have admired Greg's passion and drive working hard to help keep "The Last Great Raceon Earth®" alive and have very much appreciated the laughter these many years. You will be missed Greg, I hope you will still come by the booth and volunteer at the Fair with me from time to time. I have thought of a few new sayings for dog tags!
Julie Busch
*****
Having worked with Greg for almost twenty years, I've always known him to be pleasant, professional and honorable.  Certainly, his full-time presence will be missed, but his legacy will persist.  He has played a very important role in bringing the Iditarod to the level of fame and success that we now enjoy, and the organization has been exceptionally fortunate to have him.  He will always be part of the Iditarod family regardless of the new direction that life takes him.  Thanks, Greg!
Stu Nelson
*****
 I was introduced to Greg Bill in 2000.  For a few years as I  ran into him at race time, I often  accidentally called him "Bill" instead of Greg. I appreciate the fact he always  seemed to know who I was talking to and perhaps after a little longer than usual pause, he always answered me…  It took me some time to remember that "Greg" came before the Bill.  I learned to think before calling out his name.  Thanks for being patient, Bill — opps I mean – Greg.  (I was just joking!)  I admire Greg for all of his hard work to honor Iditarod's past and present, and see that in the future, this race remains, "The Last Great Race on Earth®"  Diane Johnson
*****
Greg's retirement will leave a serious void in Development Department of ITC. It's been an honor to work with him this past decade. It won't be the same without him.  Dale Myers
 Thanks, Greg! 
Your dedication has helped bring Iditarod to a 'better place'. 
We know this isn't good bye but instead, "See you on the Trail!"