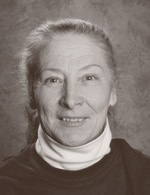 Biography
Currently planning to enter her 13th Iditarod Race, Lynda has been racing in and training others to participate in the Iditarod for 19 years. Lynda and her students have now finished a combined total of 25 Iditarod Sled Dog Races. As a result of her devotion to her dogs and her profession, she has been featured in several documentaries, including a PBS Special. She has a passion for teaching mushing and her expertise has been proven, because eleven of her students have crossed the finish line in Nome.
Lynda is one of only a handful of women to repetitively complete the Iditarod, and she strives toward being a role model for young girls and women. In doing so, she hopes to exemplify that anything in life is possible, if one sets his/her mind to it and truly loves that he/she is doing despite the odds.
Lynda owns and operates Plettner Sled Dog Kennels. She is 59 years old, was born in New York City and raised in Palm Springs, California. She has trained race horses, worked as a carpenter, and done many interesting things besides mushing. She is the mother of two adult children, Jody and Slade. Her current business, other than dogs, is the assisted living home she manages, a home for mentally challenged and mentally ill adults.
2003 Standings
Checkpoint
Time In
Dogs In
Time Out
Dogs Out
Rest Time
Previous
Layover
Status
Distance
Enroute Time
Speed (mph)
8hr
24hr
Anchorage
3/01 10:55:00
10
Campbel Airstrip (BLM)
3/01 12:01:00
10
1h 6m
Ruby
3/03 10:48:00
16
317
Galena
3/03 15:32:00
16
3/03 15:35:00
16
0h 3m
4h 44m
10.99
52
Nulato
3/04 00:01:00
16
3/04 07:39:00
16
7h 38m
8h 26m
6.17
52
Kaltag 1
3/04 15:47:00
16
3/05 00:50:00
15
9h 3m
8h 8m
5.16
42
Eagle Island 1
3/05 21:02:00
15
3/06 05:40:00
13
8h 38m
20h 12m
3.47
70
Grayling 1
3/06 13:03:00
13
3/07 14:21:00
13
25h 18m
7h 23m
8.13
60
Anvik
3/07 19:24:00
13
3/07 19:31:00
13
0h 7m
5h 3m
3.56
18
Grayling 2
3/08 05:10:00
13
3/08 09:50:00
12
4h 40m
9h 39m
1.87
18
Eagle Island 2
3/08 20:38:00
12
3/09 04:38:00
12
8h 0m
10h 48m
5.56
60
Kaltag 2
3/09 10:57:00
12
3/09 17:25:00
12
6h 28m
6h 19m
11.08
70
Unalakleet
3/09 19:41:00
12
3/09 19:46:00
12
0h 5m
2h 16m
39.71
90
Shaktoolik
3/09 22:30:00
12
3/10 05:22:00
12
6h 52m
2h 44m
15.37
42
Koyuk
3/10 20:07:00
12
3/10 20:35:00
12
0h 28m
14h 45m
3.25
48
Elim
3/11 12:08:00
12
3/11 17:17:00
12
5h 9m
15h 33m
3.09
48
White Mountain
3/12 10:46:00
12
3/12 15:37:00
10
4h 51m
17h 29m
2.63
46
Safety
3/12 20:55:00
10
3/13 08:50:00
10
11h 55m
5h 18m
10.38
55
Nome
3/13 14:24:00
10
3/13 20:58:00
9
6h 34m
5h 34m
3.95
22