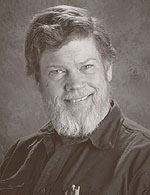 Biography
Eric Rogers, 61, a PhD Physicist who moved to Alaska from Houston, Texas, in 1992, achieved a childhood dream by finishing the 2006 Iditarod as that year's oldest rookie. In 2009 Eric continues to follow the dream as a member of the over 60 club. Born in California, Eric spent his early years watching Sgt. Preston and reading Jack London. In 1970 he enlisted in the U.S. Air Force and trained as a navigator in KC-135's for the Strategic Air Command. In 1972, asa graduation exercise from Navigator School, he flew to Anchorage for the first time and says, "Alaska was everything I had dreamed." He served a brief tour in Southeast Asia in 1973 and made his second trip to Alaska, TDY to Fairbanks in September of that year. He left the Air Force with sinus problems in 1975, returned to graduate school and finished his Ph.D. in theoretical physics at the University of Washington in 1981. He joined Shell Oil in Houston as a geophysicist. In February, 1988, he and his wife, Marti, took a "second honeymoon" to Alaska and drove from Seward to Coldfoot. He says Marti fell in love with it just like he had. He left Shell in 1991 and they moved to Alaska, following a childhood dream. Eric says it is an open question as to whether he will get good at Iditarod or get old first. He is a member of the American Physical Society, Chugiak Dog Mushers, Iditarod and P.R.I.D.E. His hobbies are dogs, history of the North Country, mountains, weather, geology, physics and Alaska. He and Marti are parents of Delphone, 34, Dawn, 31, Andi, 27 and Liz, 26.
Sponsors
Daily's Web Design/Theresa Daily
Mary E Curtis
Dale & Trish Keefe/Northern Restaurant Group, LLC;
Raven Electric, Inc.
2007 Standings
Checkpoint
Time In
Dogs In
Time Out
Dogs Out
Rest Time
Previous
Layover
Status
Distance
Enroute Time
Speed (mph)
8hr
24hr
Anchorage
3/03 10:44:00
12
Campbell Airstrip (BLM)
3/03 11:54:00
12
1h 10m
Willow
3/04 14:38:00
16
59
Yentna (YENT-na)
3/04 18:26:00
16
3/04 20:55:00
16
2h 29m
3h 48m
11.84
45
Skwentna
3/05 00:19:00
16
3/05 08:05:00
15
7h 46m
3h 24m
10.00
34
Finger Lake
3/05 13:33:00
15
3/05 17:45:00
15
4h 12m
5h 28m
8.23
45
Rainy Pass
3/05 22:30:00
15
3/07 07:20:00
15
32h 50m
4h 45m
6.32
30
Rohn (Rone)
3/07 12:47:00
15
3/08 09:05:00
15
20h 18m
5h 27m
8.81
48
Nikolai (NIK-o-lye)
3/08 23:00:00
15
3/09 14:45:00
15
15h 45m
13h 55m
5.75
80
McGrath
3/09 20:12:00
15
3/10 08:32:00
15
12h 20m
5h 27m
8.81
48
Takotna (Ta-COT-na)
3/10 11:30:00
15
3/10 11:35:00
15
0h 5m
2h 58m
6.07
18
Ophir (OH-fur)
3/10 13:53:00
15
3/10 23:00:00
15
9h 7m
2h 18m
10.87
25
Iditarod (I-DIT-a-rod)
3/13 17:00:00
15
65h 0m
1.38
Scratched
90