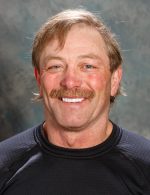 Biography
Paul, was born and raised on a family farm in central Minnesota. He has raised and taken care of animals his whole life. Paul has been a carpenter and a contractor since he was 18 years old and is currently a general contractor in Kasilof, Alaska. He moved here from Minnesota in 1989, began mushing in 1992 and ran his first Iditarod with dogs he bred up in his own kennel. He has been breeding and raising his own dogs ever since. He has placed as high as second in the Iditarod twice.
"I don't want to end my mushing career after coming down with Multiple Myeloma cancer. I beat that, and now I want to run some more races after cancer. I still lwould like to prove how good my dogs are."
Paul has two adult daughters and one adult son, Kristi, Nikka and Paul Jr. He says he enjoys hunting, gardening and raising birds.
Sponsors
Janssen Funeral Homes, Inc.
Richard Crosby, DDS
Blockbuster Video
Northern Outfitters, FL
Bill Petrell-In honor of Nicholas, MA
First Tool Corp, OH
Udelhoven Oilfield System Services
Momentum Premuim Athletic Dog Food, MI
Carol/George Figdore, PA
Andrea Resciniti, MA
Grabber Performance Group, MI
Columbia Paint & Coatings
Craig Taylor Equipment Company

Allan/Alfie Norville, AZ
Spenard Builders Supply
Mickey's Custom Sewing
Steve Tarries, CPA
Fulton Auto Body
Jim/Linda Schwanke
R & R Auto
Kenai Veterinary Hospital
Snug Harbor Seafoods
Morning View Kennel Booster Club
Aspen Hollow Lodging
Joyce Jensen, NV
2011 Standings
Checkpoint
Time In
Dogs In
Time Out
Dogs Out
Rest Time
Previous
Layover
Status
Distance
Enroute Time
Speed (mph)
8hr
24hr
Anchorage
3/05 11:10:00
12
Willow
3/06 15:04:00
16
Yentna Station
3/06 18:29:00
16
3/06 18:32:00
16
0h 3m
3h 25m
13.17
45
Skwentna
3/06 21:14:00
16
3/07 01:13:00
16
3h 59m
2h 42m
12.59
34
Finger Lake
3/07 05:42:00
16
3/07 05:43:00
16
0h 1m
4h 29m
10.04
45
Rainy Pass
3/07 09:26:00
16
3/07 13:42:00
15
4h 16m
3h 43m
8.07
30
Rohn
3/07 17:44:00
15
3/08 00:05:00
14
6h 21m
4h 2m
11.90
48
Nikolai
3/08 09:58:00
14
9h 53m
7.59
Scratched
75