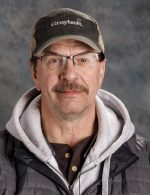 Biography
Alan Eischens, 61, is a life long Alaskan, and grew up in Adak. His love for the outdoors, dogs and children have given him the greatest peace. Double E Kennel was founded in 2011, and has been a big part of his life since then. Alan and his kennel will be carrying National Pediatric Cancer Foundation banner again this year in honor of all children who have suffered or are suffering from/with cancer. For no child should have to suffer. The team and Alan hold a record which the kennel holds near and dear to their hearts. Alan was able to bring all 16 dogs across the finish line in Nome, in 2016 and 2017. Thus making Double E Kennel the only kennel to ever finish two consecutive years in a row with all 16 dogs. He still holds this record today.
In his spare time he loves to hunt and fish, but is often working along the side with his wife Tanjala, in their catering and cleaning businesses.
Alan is the father of three adult children, 3 stepson's, 23 grandchildren and 1 great grandson.
Sponsors
Jansma/Shumar Family
Cable17
HomeStyle Plus Catering and Cleaning
Dr. Joe Carson

Amazing Grace Academy
Friends & Family
Alaska Foot & Ankle Specialist
2020 Standings
Checkpoint
Time In
Dogs In
Time Out
Dogs Out
Rest Time
Previous
Layover
Status
Distance
Enroute Time
Speed (mph)
8hr
24hr
Willow
3/08 15:34:00
14
Yentna
3/08 21:02:00
14
3/09 00:26:00
14
3h 24m
5h 28m
7.68
42
Skwentna
3/09 04:10:00
14
3/09 09:55:00
14
5h 45m
3h 44m
8.04
30
Finger Lake
3/09 15:37:00
14
3/09 20:22:00
13
4h 45m
5h 42m
7.02
40
Rainy Pass
3/10 01:07:00
13
3/10 08:35:00
13
7h 28m
4h 45m
6.32
30
Rohn
3/10 14:01:00
13
3/10 20:21:00
12
6h 20m
5h 26m
6.44
35
Nikolai
3/11 19:06:00
12
3/12 19:24:00
11
24h 18m
22h 45m
3.30
75
McGrath
3/13 01:43:00
11
6h 19m
7.60
Scratched
48