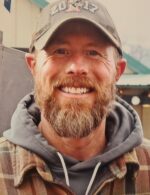 Biography
Bryce Mumford, 43, lives in Preston, Idaho, with his wife, Lindsay, and their two children, Anna and Connor. His love of the outdoors and adventure started young, with his father, Rex, encouraging him with hunting, fishing, river rafting and camping.
In 2008, an Iditarod television series got him interested in sled dogs and the Iditarod. It wasn't very long before he got his first sled dogs. When he started racing dogs in longer races, his father was recruited to be his handler. His kids also began mushing in junior races. After a few years, his father decided he wanted to give mushing a try. It has become a hobby for the whole family. When Rex, Bryce and Anna ran the Idaho Sled Dog Challenge, a 100 mile race, together in 2022, they were dubbed by the local paper as the Mushng Mumfords. Their adventures as a family have brought them closer together and have helped them pursue challenging goals and endure difficult times. Without his family, pursuing Bryce's dream of running the Iditarod would not be possible.
Bryce has run multiple mid-distance races including Montana's Race to the Sky 300, the Eagle Cap Extreme 200 in Oregon, and the Idaho Sled Dog Challenge 300. Finishing his first 300 mile race and being awarded The Best Cared for Team in the Race to the Sky was a highlight. He loves spending time with his dogs and watching them grow and work.
Bryce would like to thank his parents for making this dream possible, his uncles and handlers, Jim, Gary and Sterling, and his wife and kids for allowing him to pursue the adventure of Iditarod. He would also like to thank the other mushers who've encouraged and helped him along the way.