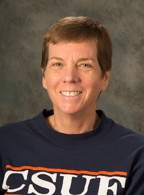 Biography
Cindy Abbott, 56, was born and raised in Nebraska. After graduation from California State University, Fullerton, with a Master's Degree in Kinesiology in 1996, she became an instructor there. She currently lives with her husband Larry and daughter Teshia in Irvine, California. She teaches Health Science at California State University, Fullerton. Cindy has always been drawn to the world of extreme sports. Already an extreme scuba diver and underwater videographer, in 2007, at the age of 48, she took up mountain climbing with the single goal of standing on the top of the world. A few months after she began training, Cindy was diagnosed with a serious and rare disease (Wegener's Granulomatosis), but she was determined to achieve her dream and on May 23, 2010, after 54 days of working her way up the mountain, Cindy stepped onto the summit of Mt. Everest, holding the National Organization of Rare Disorders (NORD) banner.
Cindy learned about the Iditarod in the early 1990's, while taking an Environmental Exercise Physiology course. But it wasn't until 2004, that she came to Alaska and took her first ride on a dog sled. In 2011, she began working under the guidance of Lance Mackey's Comeback Kennel. She immediately fell in love with the sport, the Alaskan people and culture, but most of all, she fell in love with the world's most amazing athletes – the dogs!
On March 3, 2013, Cindy started her first Iditarod. About 20 miles out, she injured her leg and thought that she may have to scratch at the first checkpoint. After resting for a few hours, she felt better and decided to run to the next checkpoint. In this way, Cindy went from checkpoint to checkpoint until, on day 10 and 630 miles into the race, her condition worsened and, for the safety of her team, she scratched at Kaltag. When she got back to Anchorage, she was told that her pelvis was broken in two places.
Running under Vern Halter's Dream a Dream Dog Farm, Cindy started her second Iditarod on March 2, 2014. Unfortunately Mother Nature made the race course unusually challenging and Cindy injured her shoulder, and, for the safety of her team, she scratched at Rohn.
Determined as ever, Cindy is back! This time she plans on getting her NORD banner photo standing under the Burled Arch in Nome.
Everest or the Iditarod: Cindy admits that, for her, long distance sled dog racing is much more difficult than summiting Mt. Everest – something she never thought that she would say.
Since her diagnosis, Cindy has become a very active rare disease awareness advocate for the National Organization of Rare Disorders and the Vasculitis Foundation, and she is the official spokesperson for the Katmai Lodge Alaska and Markall, Inc. Foundation for Disease and Disability Awareness. She also enjoys mountain climbing, SCUBA diving and international travel.
Sponsors
2013 Standings
Checkpoint
Time In
Dogs In
Time Out
Dogs Out
Rest Time
Previous
Layover
Status
Distance
Enroute Time
Speed (mph)
8hr
24hr
Anchorage
3/02 11:56:00
12
Willow
3/03 15:56:00
14
Yentna
3/03 20:23:00
14
3/03 20:36:00
14
0h 13m
4h 27m
9.44
42
Skwentna
3/03 23:51:00
14
3/04 08:36:00
14
8h 45m
3h 15m
9.23
30
Finger Lake
3/04 13:45:00
14
3/04 20:39:00
14
6h 54m
5h 9m
7.77
40
Rainy Pass
3/05 01:35:00
14
3/05 08:48:00
14
7h 13m
4h 56m
6.08
30
Rohn
3/05 14:10:00
14
3/05 21:17:00
14
7h 7m
5h 22m
6.52
35
Nikolai
3/06 16:11:00
14
3/07 00:18:00
14
8h 7m
18h 54m
3.97
75
McGrath
3/07 07:43:00
14
3/08 08:48:00
14
25h 5m
7h 25m
6.47
48
Takotna
3/08 11:12:00
14
3/08 11:19:00
14
0h 7m
2h 24m
7.50
18
Ophir
3/08 14:45:00
14
3/08 19:25:00
14
4h 40m
3h 26m
6.70
23
Iditarod
3/09 20:50:00
14
3/10 11:47:00
13
13h 57m
25h 25m
3.15
80
Shageluk
3/10 21:30:00
13
3/11 06:51:00
13
9h 21m
9h 43m
5.66
55
Anvik
3/11 11:00:00
13
3/11 11:17:00
13
0h 17m
4h 9m
6.02
25
Grayling
3/11 14:09:00
13
3/11 22:11:00
13
8h 2m
2h 52m
6.28
18
Eagle Island
3/12 08:58:00
13
3/12 18:41:00
12
9h 43m
10h 47m
5.75
62
Kaltag
3/13 23:00:00
12
28h 19m
2.12
Scratched
60