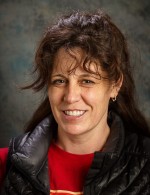 Biography
Karin Hendrickson, 45, was raised in the small mountain town of Mt. Baldy, California. She has a BA in Environmental Conservation from the University of Colorado at Boulder and has worked in environmental regulation since 1998. For the last 10 years, she has been an environmental manager here in Alaska and lives north of Willow.
"I saw my first sled dog in March, 2002, when I came up to volunteer for Iditarod. By 2003, I had sold everything I owned, quit my job, and moved to Alaska to become a handler. After two years as a handler, I tried to quit my dog habit. That didn't last long—I was miserable without dogs!"
"I started building my own team in 2006. I really never expected to do any racing, much less run the Iditarod! I am not too sure how it all happened, but just two years later I found myself signed up for my first Iditarod. 2016 will be my fifth time to leave the starting line of 'The Last Great Race.' I was hit by a truck while training last fall and broke my back in three places. Luckily all my dogs were O.K., but I wasn't able to run in 2015. I am working hard to overcome my injuries and make it back on the trail in 2016."
"I am one of a very few mushers to work full-time through the winter. My biggest challenge is trying to fit training and racing in around the demands of my job. It is just this side of impossible to get everything done, but somehow we make it happen."
Before dogs, she says she used to telemark ski, rock climb, white water kayak, train horses, hike and all kinds of other outdoor sports. Now she spends so much time with her dogs that she doesn't have time for other hobbies.
Sponsors
Gwen Rodman
Brad/Joan VanMeter
Tom/Arleen, Paige/Brooke Derevjanik
Joan Presecan
Marilyn Dale/Sandra Baldonado
Kanaga Environmental Consulting
Richard/Sandra Hendrickson

Renee Van Huele
Denise Van Huele
Chris Entman
Patti/Warren TenBrook
Bill/Beth/Sarah Steele
The Routh Family
2014 Standings
Checkpoint
Time In
Dogs In
Time Out
Dogs Out
Rest Time
Previous
Layover
Status
Distance
Enroute Time
Speed (mph)
8hr
24hr
Anchorage
3/01 11:08:00
12
Willow
3/02 15:02:00
16
Yentna Station
3/02 19:24:00
16
3/02 19:28:00
16
0h 4m
4h 22m
9.62
42
Skwentna
3/02 22:43:00
16
3/03 05:07:00
15
6h 24m
3h 15m
9.23
30
Finger Lake
3/03 09:38:00
15
3/03 13:00:00
15
3h 22m
4h 31m
8.86
40
Rainy Pass
3/03 17:00:00
15
3/03 20:34:00
15
3h 34m
4h 0m
7.50
30
Rohn
3/04 01:17:00
15
3/04 05:30:00
15
4h 13m
4h 43m
7.42
35
Nikolai
3/04 21:54:00
15
3/05 04:15:00
15
6h 21m
16h 24m
4.57
75
McGrath
3/05 09:47:00
15
3/05 09:48:00
15
0h 1m
5h 32m
8.67
48
Takotna
3/05 12:09:00
15
3/06 13:23:00
15
25h 14m
2h 21m
7.66
18
Ophir
3/06 15:43:00
15
3/06 15:59:00
15
0h 16m
2h 20m
9.86
23
Cripple
3/07 05:58:00
15
3/07 10:23:00
14
4h 25m
13h 59m
5.22
73
Ruby
3/07 21:58:00
14
3/08 06:08:00
14
8h 10m
11h 35m
6.04
70
Galena
3/08 11:59:00
14
3/08 16:30:00
14
4h 31m
5h 51m
8.55
50
Nulato
3/08 22:45:00
14
3/09 05:09:00
13
5h 24m
6h 15m
5.92
37
Kaltag
3/09 09:23:00
13
3/09 13:23:00
13
4h 0m
4h 14m
11.10
47
Unalakleet
3/10 03:03:00
13
3/10 09:01:00
10
5h 58m
13h 40m
6.22
85
Shaktoolik
3/10 15:19:00
10
3/11 12:40:00
10
21h 21m
6h 18m
6.35
40
Koyuk
3/11 19:57:00
10
3/12 01:58:00
10
6h 1m
7h 17m
6.86
50
Elim
3/12 08:18:00
10
3/12 12:30:00
10
4h 12m
6h 20m
7.58
48
White Mountain
3/12 19:09:00
10
3/13 03:09:00
10
8h 0m
6h 39m
6.92
46
Safety
3/13 10:06:00
10
3/13 10:07:00
10
0h 1m
6h 57m
7.91
55
Nome
3/13 13:23:10
10
3h 16m
6.73
22