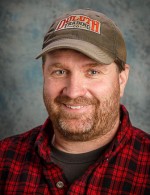 Biography
Nathan Schroeder, 38, was born and raised in Warba, Minnesota. He graduated from Mesabi Range Community and Technical College in 1999 as a maintenance mechanic. He has worked as a millwright in Local 1348 for the last 16 years. Nathan was introduced to mushing at the age of 12, when he was given a ride at an elementary school behind a team of malamutes. He has raced numerous races in the "Lower 48." He is a four time champion of the John Beargrease Sled Dog Marathon and a Rookie of the Year in the Iditarod. He says, "It's always been a dream to run the Iditarod. This will be my third race. After last years' race at the finish line, I absolutely needed to return! So here we go again!" Nathan has three young children: Gavin, 6, Sawyer, 4 and
Kinley, 3. He enjoys fishing, fishing and more fishing!!!!
Sponsors
Dogbooties.com
Duluth Sign
Stewart-Taylor Printing
Westmorelandflint
Camp Chow
Millwright Local 1348

Vermilion Veterinary Clinic
General Waste
Minnesota Twist Drill
Revival Animal Health
Carousel Thrift Store.
Awards
Jerry Austin Rookie of the Year


2014 Standings
Checkpoint
Time In
Dogs In
Time Out
Dogs Out
Rest Time
Previous
Layover
Status
Distance
Enroute Time
Speed (mph)
8hr
24hr
Anchorage
3/01 10:50:00
12
Willow
3/02 14:46:00
16
Yentna Station
3/02 18:25:00
16
3/02 18:30:00
16
0h 5m
3h 39m
11.51
42
Skwentna
3/02 21:23:00
16
3/03 03:10:00
16
5h 47m
2h 53m
10.40
30
Finger Lake
3/03 07:37:00
16
3/03 11:02:00
16
3h 25m
4h 27m
8.99
40
Rainy Pass
3/03 14:22:00
16
3/03 18:36:00
16
4h 14m
3h 20m
9.00
30
Rohn
3/03 23:25:00
16
3/04 05:15:00
16
5h 50m
4h 49m
7.27
35
Nikolai
3/04 15:06:00
16
3/04 20:33:00
16
5h 27m
9h 51m
7.61
75
McGrath
3/05 01:55:00
16
3/05 01:56:00
16
0h 1m
5h 22m
8.94
48
Takotna
3/05 04:08:00
16
3/06 05:38:00
16
25h 30m
2h 12m
8.18
18
Ophir
3/06 07:50:00
16
3/06 08:00:00
16
0h 10m
2h 12m
10.45
23
Cripple
3/06 18:33:00
16
3/07 01:30:00
16
6h 57m
10h 33m
6.92
73
Ruby
3/07 10:32:00
16
3/07 18:32:00
15
8h 0m
9h 2m
7.75
70
Galena
3/08 00:07:00
15
3/08 05:35:00
14
5h 28m
5h 35m
8.96
50
Nulato
3/08 11:15:00
14
3/08 13:35:00
13
2h 20m
5h 40m
6.53
37
Kaltag
3/08 18:02:00
13
3/09 00:35:00
13
6h 33m
4h 27m
10.56
47
Unalakleet
3/09 14:22:00
13
3/09 18:57:00
13
4h 35m
12h 47m
6.65
85
Shaktoolik
3/10 00:54:00
13
3/10 06:09:00
13
5h 15m
5h 57m
6.72
40
Koyuk
3/10 12:56:00
13
3/10 18:33:00
12
5h 37m
6h 47m
7.37
50
Elim
3/11 00:38:00
12
3/11 09:28:00
12
8h 50m
6h 5m
7.89
48
White Mountain
3/11 16:23:00
12
3/12 00:23:00
11
8h 0m
6h 55m
6.65
46
Safety
3/12 06:14:00
11
3/12 06:15:00
11
0h 1m
5h 51m
9.40
55
Nome
3/12 08:52:51
11
2h 37m
8.41
22