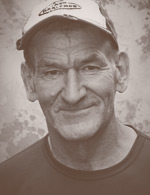 Biography
G.B. Jones, 62, was born and raised in Utah.
He moved to Alaska in 1976 for the "unspoiled wilderness."
He began mushing in 2001 and ran his first Iditarod in 2002.
G.B. says that he "values this opportunity to prepare and ultimately go to Nome by dog team."
He lists his only hobby as dog driving.
2002 Standings
Checkpoint
Time In
Dogs In
Time Out
Dogs Out
Rest Time
Previous
Layover
Status
Distance
Enroute Time
Speed (mph)
8hr
24hr
Anchorage
3/02 10:17:00
12
Eagle River
3/02 13:44:00
12
3h 27m
Wasilla
3/03 10:17:00
16
29
Knik
3/03 11:32:00
16
3/03 11:33:00
16
0h 1m
1h 15m
11.20
14
Yentna Station
3/03 21:03:00
16
9h 30m
5.47
52
Skwentna
3/04 05:22:00
16
34
Finger Lake
3/04 18:36:00
16
3/05 07:26:00
16
12h 50m
45
Rainy Pass
3/05 12:20:00
16
3/05 17:48:00
15
5h 28m
4h 54m
6.12
30
Rohn
3/05 22:18:00
15
3/06 09:08:00
15
10h 50m
4h 30m
10.67
48
Nikolai
3/07 01:35:00
15
3/07 12:08:00
14
10h 33m
16h 27m
5.65
93
McGrath
3/07 18:40:00
14
3/08 21:03:00
13
26h 23m
6h 32m
7.35
48
Takotna
3/08 23:05:00
13
3/09 00:24:00
13
1h 19m
2h 2m
11.31
23
Ophir
3/09 03:03:00
13
3/09 10:21:00
13
7h 18m
2h 39m
14.34
38
Cripple
3/10 02:25:00
13
3/10 11:01:00
11
8h 36m
16h 4m
3.73
60
Ruby
3/10 23:52:00
11
3/11 10:38:00
11
10h 46m
12h 51m
8.72
112
Galena
3/11 17:53:00
11
3/12 06:41:00
11
12h 48m
7h 15m
7.17
52
Nulato
3/12 13:00:00
11
3/12 17:05:00
11
4h 5m
6h 19m
8.23
52
Kaltag
3/12 22:19:00
11
3/13 06:05:00
11
7h 46m
5h 14m
8.03
42
Unalakleet
3/13 21:35:00
11
3/14 06:37:00
11
9h 2m
15h 30m
5.81
90
Shaktoolik
3/14 12:33:00
11
3/14 18:29:00
10
5h 56m
5h 56m
6.74
40
Koyuk
3/15 01:34:00
10
3/15 08:38:00
10
7h 4m
7h 5m
8.19
58
Elim
3/15 16:18:00
10
3/16 03:06:00
10
10h 48m
7h 40m
6.26
48
White Mountain
3/16 14:17:00
10
3/16 22:24:00
10
8h 7m
11h 11m
4.11
46
Safety
3/17 07:07:00
10
3/17 07:44:00
10
0h 37m
8h 43m
6.31
55
Nome
3/17 11:11:11
10
3h 27m
6.38
22