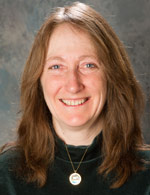 Biography
I have been running dogs in some fashion since I was about 10 years old. I am now 53. My family moved to Valdez, Alaska in 1963, about 8 months before the devastating earthquake in 1964. I have called Alaska my home ever since. Through the years I have shoed horses, homesteaded in the Alaska Range, worked on the North Slope, and then settled in the Wasilla area where I built my own house and kennel and met my partner in life, Ed Grube. I got the bug to run long-distance races in the early 90's and finally ran the Yukon Quest in 2002. I continued to compete in the Yukon Quest, finishing a total of 8 times, placing as high as 5th and earning the Sportsmanship Award and the Challenge of the North Award along the way.
I entered the first of four Iditarods in 2005, then again in 2008 after finishing the Quest – becoming the first woman to ever finish both 1000 mile races in the same year. I ran the Iditarod in 2011 after my best finish in the Quest, and am now the only woman to have run both races in the same season twice.
My fourth Iditarod was in 2012.
I plan to run both the Quest and Iditarod again this year.
This sport is amazing in that we get to work with such amazing athletes that are so passionate about what they do. We also get to experience some of the most incredible country on Earth, and we get to challenge ourselves and our decisions in survival and in competition in ways that many people cannot even imagine.
Sponsors
Jaburg & Wilk, Attorneys at Law, AZ
Clarion Suites-Anchorage, AK
Elite Worldwide, Inc.
2008 Standings
Checkpoint
Time In
Dogs In
Time Out
Dogs Out
Rest Time
Previous
Layover
Status
Distance
Enroute Time
Speed (mph)
8hr
24hr
Anchorage
3/01 13:07:00
12
Willow
3/02 16:48:00
16
Yentna
3/02 21:26:00
16
3/02 21:31:00
16
0h 5m
4h 38m
9.06
42
Skwentna
3/03 01:04:00
16
3/03 06:06:00
16
5h 2m
3h 33m
9.58
34
Finger Lake
3/03 12:14:00
16
16
6h 8m
7.34
45
Rainy Pass
3/03 16:40:00
16
3/03 22:55:00
16
6h 15m
30
Rohn
3/04 05:53:00
16
3/04 13:07:00
15
7h 14m
6h 58m
6.89
48
Nikolai
3/05 03:50:00
15
3/05 10:26:00
14
6h 36m
14h 43m
5.10
75
McGrath
3/05 22:11:00
14
3/05 22:14:00
14
0h 3m
11h 45m
4.60
54
Takotna
3/06 01:12:00
14
3/07 01:40:00
14
24h 28m
2h 58m
6.07
18
Ophir
3/07 04:32:00
14
3/07 04:45:00
14
0h 13m
2h 52m
8.72
25
Cripple
3/07 21:42:00
14
3/08 04:20:00
14
6h 38m
16h 57m
3.48
59
Ruby
3/08 16:42:00
14
3/09 01:09:00
13
8h 27m
12h 22m
9.06
112
Galena
3/09 09:08:00
13
3/09 14:15:00
12
5h 7m
6h 59m
7.45
52
Nulato
3/09 22:30:00
12
3/10 07:00:00
11
8h 30m
8h 15m
6.30
52
Kaltag
3/10 12:30:00
11
3/10 17:43:00
10
5h 13m
5h 30m
7.64
42
Unalakleet
3/11 11:13:00
10
3/11 16:36:00
10
5h 23m
17h 30m
5.14
90
Shaktoolik
3/11 23:27:00
10
3/12 06:14:00
10
6h 47m
6h 51m
6.13
42
Koyuk
3/12 13:12:00
10
3/12 18:24:00
10
5h 12m
6h 58m
6.89
48
Elim
3/13 01:39:00
10
3/13 05:22:00
10
3h 43m
7h 15m
6.62
48
White Mountain
3/13 13:33:00
10
3/13 21:45:00
10
8h 12m
8h 11m
5.62
46
Safety
3/14 06:49:00
10
3/14 06:52:00
10
0h 3m
9h 4m
6.07
55
Nome
3/14 10:19:36
10
3h 27m
6.38
22