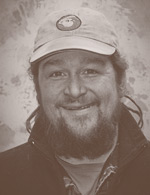 Brennan Norden
Bib Number:
44
Hometown:
Kasilof, Alaska
Biography
Brennan Norden, 37, was born and raised in the state of Washington.
He moved to Alaska in April of 2001 and he isn't sure why other than "wanting to living the Alaskan dream!"
Brennan began mushing in 2002 and has been a dog musher and a river guide for the last seven years. He has run the Tustumena, the Sheep Mountain 150, the Gin Gin, the Klondike, and other Alaska mid distance races.
Brennan says that his hobbies are fishing, hiking and "anything crazy."
Sponsors
Northshore Sheet Metal, WA
Chocolate #9 Energy gel/John Sample, WA
Kasilof Enterprises
Decanter Inn/Glenn & Trudy Tisdale
John Norden, WA

Dave & Margie Norden-Wood, WA
Dr. William Camble
The Kelley family
Mary Wood
The Dog Bootie supporters
2011 Standings
Checkpoint
Time In
Dogs In
Time Out
Dogs Out
Rest Time
Previous
Layover
Status
Distance
Enroute Time
Speed (mph)
8hr
24hr
Anchorage
3/05 11:32:00
12
Willow
3/06 15:24:00
16
Yentna Station
3/06 19:23:00
16
3/06 23:03:00
16
3h 40m
3h 59m
11.30
45
Skwentna
3/07 02:40:00
16
3/07 09:10:00
15
6h 30m
3h 37m
9.40
34
Finger Lake
3/07 14:41:00
15
3/08 05:39:00
14
14h 58m
5h 31m
8.16
45
Rainy Pass
3/08 10:45:00
14
3/08 16:32:00
13
5h 47m
5h 6m
5.88
30
Rohn
3/08 21:02:00
13
3/09 09:16:00
12
12h 14m
4h 30m
10.67
48
Nikolai
3/09 22:34:00
12
3/10 07:20:00
12
8h 46m
13h 18m
5.64
75
McGrath
3/10 13:00:00
12
3/11 17:38:00
12
28h 38m
5h 40m
9.53
54
Takotna
3/11 19:38:00
12
3/11 19:46:00
12
0h 8m
2h 0m
9.00
18
Ophir
3/11 22:29:00
12
3/11 22:39:00
12
0h 10m
2h 43m
9.20
25
Iditarod
3/12 16:35:00
12
3/13 11:34:00
12
17h 59m
17h 56m
5.02
90
Shageluk
3/13 20:15:00
12
8h 41m
7.49
Scratched
65