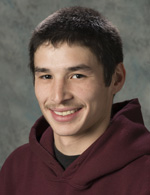 Josh Cadzow
Bib Number:
55
Hometown:
Fort Yukon, Alaska
Biography
Joshua Cadzow is 25 years old, an Athbascan from Fort Yukon, Alaska.
He is running the Iditarod this year to finish and be competitive, with
a healthy dog team. He has trained long and hard this year, in the cold and
with very little snow in Fort Yukon." I'm happy with my team and hopefully we
make it all the way to Nome this year." I want to thank my family, handlers and the
Community of Fort Yukon and all my sponsors that have generously sponsored and
supported Cadzow Kennels.
Sponsors
Native Village of Ft.Yukon-GZGTG
Rasmuson Foundation
Cadzow Kennels
KZPA Radion
Vivian Hiatt
Clyde Mayo
Dick & Erla Hutchison

Yukon Barge-Gerald James
City of Fort Yukon
Brice, JV-Arctic Contractors
Chizh'ur LLC
American Mechanical Inc.
Doyon, Ltd.
Wright Air Service
2012 Standings
Checkpoint
Time In
Dogs In
Time Out
Dogs Out
Rest Time
Previous
Layover
Status
Distance
Enroute Time
Speed (mph)
8hr
24hr
Anchorage
3/03 11:56:00
12
Willow
3/04 15:46:00
16
Yentna Station
3/04 19:41:00
16
3/04 19:55:00
16
0h 14m
3h 55m
10.72
42
Skwentna
3/04 22:48:00
16
3/05 04:30:00
15
5h 42m
2h 53m
10.40
30
Finger Lake
3/05 07:33:00
15
3/05 11:40:00
15
4h 7m
3h 3m
13.11
40
Rainy Pass
3/05 14:05:00
15
3/05 17:47:00
14
3h 42m
2h 25m
12.41
30
Rohn
3/05 22:16:00
14
3/06 04:16:00
13
6h 0m
4h 29m
7.81
35
Nikolai
3/06 14:01:00
13
3/06 19:06:00
13
5h 5m
9h 45m
7.69
75
McGrath
3/07 02:23:00
13
3/07 02:28:00
12
0h 5m
7h 17m
6.59
48
Takotna
3/07 05:23:00
12
3/08 05:47:00
12
24h 24m
2h 55m
6.17
18
Ophir
3/08 08:20:00
12
3/08 08:26:00
11
0h 6m
2h 33m
9.02
23
Cripple
3/08 21:50:00
11
3/09 04:22:00
11
6h 32m
13h 24m
5.45
73
Ruby
3/09 14:22:00
11
3/09 22:22:00
11
8h 0m
10h 0m
7.00
70
Galena
3/10 04:19:00
11
3/10 08:45:00
9
4h 26m
5h 57m
8.40
50
Nulato
3/10 15:14:00
9
3/11 10:35:00
9
18h 21m
6h 29m
5.71
37
Kaltag
3/11 14:10:00
9
3h 35m
13.12
Scratched
47