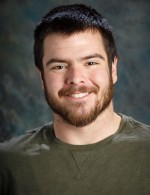 Thomas Rosenbloom
Bib Number:
40
Hometown:
Cantwell, Alaska
Biography
Thomas, 26, was born and raised in Wichita, Kansas. He attended college at the University of Georgia, Athens, and received a B.S. in Psychology in 2012. During his junior year in college, he watched "The Toughest Race on Earth", an Iditarod documentary, and after watching that he knew he HAD to run the Iditarod! After graduating, working and traveling, he applied for a job at Wolf's Den Kennel in Cantwell, owned by Mike and Caitlin Santos. He says, "I have loved my two years here in Cantwell and am now more than ever determined to finish the Iditarod with a happy, healthy dog team." He enjoys playing music and traveling.
Sponsors
Richard Rosenbloom/Patrice Krant
Peachtree Medical Billing
The Grier Family
All of my IditaRosenbloom supporters!
2017 Standings
Checkpoint
Time In
Dogs In
Time Out
Dogs Out
Rest Time
Previous
Layover
Status
Distance
Enroute Time
Speed (mph)
8hr
24hr
Fairbanks
3/06 12:16:00
16
Nenana
3/06 18:00:00
16
3/06 23:59:00
16
5h 59m
5h 44m
10.47
60
Manley
3/07 15:50:00
16
3/07 22:31:00
15
6h 41m
15h 51m
5.68
90
Tanana
3/08 06:45:00
15
3/08 14:45:00
15
8h 0m
8h 14m
8.02
66
Ruby
3/09 13:56:00
15
3/09 20:16:00
15
6h 20m
23h 11m
5.13
119
Galena
3/10 03:11:00
15
3/11 04:17:00
14
25h 6m
6h 55m
7.23
50
Huslia
3/11 19:56:00
14
3/12 09:16:00
12
12h 20m
15h 39m
5.24
82
Koyukuk
3/13 03:09:00
12
3/13 09:16:00
10
6h 7m
17h 53m
4.81
86
Nulato
3/13 11:51:00
10
3/13 11:51:00
10
0h 0m
2h 35m
8.52
22
Kaltag
3/13 16:50:00
10
3/14 05:35:00
10
12h 45m
4h 59m
9.43
47
Unalakleet
3/14 22:17:00
10
3/15 05:18:00
10
7h 1m
16h 42m
5.09
85
Shaktoolik
3/15 11:30:00
10
3/15 18:28:00
10
6h 58m
6h 12m
6.45
40
Koyuk
3/16 00:41:00
10
3/16 09:12:00
10
8h 31m
6h 13m
8.04
50
Elim
3/16 15:51:00
10
3/16 22:15:00
10
6h 24m
6h 39m
7.22
48
White Mountain
3/17 05:00:00
10
3/17 15:41:00
10
10h 41m
6h 45m
6.81
46
Safety
3/17 23:18:00
10
3/17 23:19:00
10
0h 1m
7h 37m
7.22
55
Nome
3/18 02:49:25
10
3h 30m
6.29
22