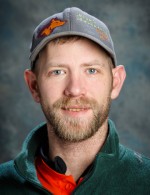 Justin High
Bib Number:
48
Hometown:
Willow, Alaska
Biography
Justin High, 33, was born in Illinois and raised in Hudson, Michigan. He attended Michigan Tech University and graduated in 2005 with a degree in Applied Ecology and Mechanical Engineering. He then lived in Jacksonville Beach, Florida, where he was operations manager for Cemex. He came to Alaska in October of 2009 to handle for a musher and had no prior mushing experience. "While handling, I met my wife and Iditarod finisher Jaimee (Kinzer) High, and we were married in 2012." Since then Jaimee and Justin have built their own kennel, High's Adventure Kennel, and an outdoor mushing and gear business, High's Adventure Gear. "In December of 2014, we lost our home to a house fire and ruined Jamiee's 2nd try at Iditarod. While rebuilding our home in the summer of 2015, we lost what we had left, other than our dogs, in the Willow Sockeye fire. We welcomed our first child, Isadore Rose, in January of 2016." After rebuilding, though still putting things back together, they decided "it's time to get back into Iditarod. I look forward to enjoying time on the trails with Isadore, Jaimee and our dogs and to running my rookie race." Justin says he enjoys fishing, camping, wood work, playing with Isadore and bull dogs.
Sponsors
High's Adventure Gear
Remco Electric
Jon/Jona Van Zyle
All Creatures Vet Clinic
PCMD Computer Solutions.
2017 Standings
Checkpoint
Time In
Dogs In
Time Out
Dogs Out
Rest Time
Previous
Layover
Status
Distance
Enroute Time
Speed (mph)
8hr
24hr
Fairbanks
3/06 12:32:00
16
Nenana
3/06 18:20:00
16
3/06 23:45:00
16
5h 25m
5h 48m
10.34
60
Manley
3/07 14:09:00
16
3/07 20:16:00
15
6h 7m
14h 24m
6.25
90
Tanana
3/08 04:09:00
15
3/08 16:28:00
13
12h 19m
7h 53m
8.37
66
Ruby
3/09 14:30:00
13
3/09 23:13:00
11
8h 43m
22h 2m
5.40
119
Galena
3/10 05:42:00
11
3/11 07:15:00
11
25h 33m
6h 29m
7.71
50
Huslia
3/11 18:11:00
11
3/12 10:43:00
10
15h 32m
10h 56m
7.50
82
Koyukuk
3/13 01:59:00
10
3/13 11:05:00
10
9h 6m
15h 16m
5.63
86
Nulato
3/13 13:23:00
10
3/13 13:24:00
10
0h 1m
2h 18m
9.57
22
Kaltag
3/13 17:46:00
10
3/14 00:10:00
9
6h 24m
4h 22m
10.76
47
Unalakleet
3/14 09:41:00
9
3/14 17:30:00
9
7h 49m
9h 31m
8.93
85
Shaktoolik
3/14 22:59:00
9
3/15 10:16:00
9
11h 17m
5h 29m
7.29
40
Koyuk
3/15 15:55:00
9
3/15 22:22:00
9
6h 27m
5h 39m
8.85
50
Elim
3/16 04:09:00
9
3/16 12:24:00
9
8h 15m
5h 47m
8.30
48
White Mountain
3/16 18:20:00
9
3/17 02:28:00
9
8h 8m
5h 56m
7.75
46
Safety
3/17 08:53:00
9
3/17 08:58:00
9
0h 5m
6h 25m
8.57
55
Nome
3/17 12:14:35
9
3h 16m
6.73
22