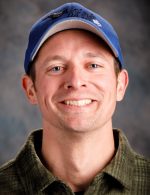 Biography
Matthew Failor, 39, was born and raised in Ohio. He says, "My family taught me a love of the outdoors; camping, fishing, canoeing, backpacking, hunting, were all things we did on family vacations. My mom and dad and brothers and sister all enjoy an active outdoor lifestyle. My three brothers and I are Eagle Scouts." He moved to Alaska in 2006 for a summer college job as a dog handler at Gold Rush Sled Dog Tours. He graduated with a Bachelor of Fine Arts Photography from Ohio State University in 2007. He moved to Alaska permanently in 2008 to work with Matt Hayashida and train with him and his dogs. He has worked for various mushers and in 2010, he started handling for Martin Buser and ran his first Iditarod as Martin's handler. He recently moved to Willow to run dogs under his own name, 17th Dog, Team Matthew Failor. "The dogs and I spend all summer, fall and winter together living as a family and learn to work towards a common goal, improving in everything we do and never stop learning. Twenty eight canines have become my immediate family now, however, Ohio will forever be called home." Matthew is currently a dog trainer and has been manager of Alaska Icefield Expeditions for 12 years. He says he enjoys sports, staying active and is an avid outdoorsman.
Sponsors
Alaska Icefield Expeditions
Gold Rush Dog Tours
Temsco
K2 Woodworking
Wool-X

Highs Adventure Kennel & Gear
Seiler & Associates
Michael O'Machearley Custom Knives
17th-Dog Boosters!
2017 Standings
Checkpoint
Time In
Dogs In
Time Out
Dogs Out
Rest Time
Previous
Layover
Status
Distance
Enroute Time
Speed (mph)
8hr
24hr
Fairbanks
3/06 12:46:00
16
Nenana
3/07 01:55:00
16
3/07 02:09:00
16
0h 14m
13h 9m
4.56
60
Manley
3/07 18:05:00
16
3/08 02:36:00
15
8h 31m
15h 56m
5.65
90
Tanana
3/08 14:54:00
15
3/08 22:15:00
14
7h 21m
12h 18m
5.37
66
Ruby
3/09 23:43:00
14
3/10 06:36:00
14
6h 53m
25h 28m
4.67
119
Galena
3/10 12:03:00
14
3/11 13:54:00
14
25h 51m
5h 27m
9.17
50
Huslia
3/12 06:36:00
14
3/12 15:30:00
13
8h 54m
15h 42m
5.22
82
Koyukuk
3/13 08:35:00
13
3/13 15:49:00
13
7h 14m
17h 5m
5.03
86
Nulato
3/13 17:50:00
13
3/13 17:54:00
13
0h 4m
2h 1m
10.91
22
Kaltag
3/13 22:05:00
13
3/14 05:28:00
11
7h 23m
4h 11m
11.24
47
Unalakleet
3/14 22:01:00
11
3/15 06:31:00
11
8h 30m
16h 33m
5.14
85
Shaktoolik
3/15 11:28:00
11
3/15 20:00:00
11
8h 32m
4h 57m
8.08
40
Koyuk
3/16 01:00:00
11
3/16 15:03:00
11
14h 3m
5h 0m
10.00
50
Elim
3/16 20:26:00
11
3/17 05:17:00
10
8h 51m
5h 23m
8.92
48
White Mountain
3/17 10:46:00
10
3/17 23:18:00
10
12h 32m
5h 29m
8.39
46
Safety
3/18 05:12:00
10
3/18 05:12:00
10
0h 0m
5h 54m
9.32
55
Nome
3/18 08:19:03
10
3h 7m
7.06
22