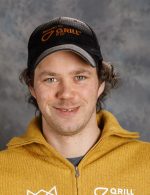 Biography
Joar comes from Mo I Rana, an industrial town just south of the Arctic Circle in Norway. He was born with an insatiable love of dogs, sense of adventure and desire to get into the mountains. As he was without a dog himself, he would take his neighbor's dogs for skijoring, hikes and camping trips, always enjoying the company of a canine friend. Once Joar finished with primary school he enrolled in an agricultural program at Val Lansbrukskole where he studied animal husbandry and farming science. During this time he worked a variety of locum jobs farming dairy cows, pigs and sheep.
Initially, Joar participated in small sled dog races with borrowed dogs and it was in 2008 that he found himself in a position to start his own kennel in Norway. In 2011, an opportunity to launch his racing career arose and he took it, making the bold move with his dog team to Alaska. Once settled in Willow, Joar set out to hone his racing technique and dog care while continuing to develop and grow his race team. He was thrilled to be able to participate in the races he had read about as a boy including the Iditarod, Yukon Quest, Nadezhda Hope Race and Kuskokwim 300. In 2018, Joar became a proud member of the Qrill Pet Mushing Team and it was a dream come true when he crossed the finish line in first place during that year's Iditarod. In 2019, Joar and his wife Margot, who is a veterinarian, founded Sivo Racing Kennel based in Willow, Alaska.
Always keeping his roots with him, Joar remains a life-time member of Rana Trekk-og Brukshundklubb based in Mo I Rana and travels home to Norway as often as he can. In his free time he is still always trying to get into the mountains either on foot, skis, a bike or dog sled. In line with his love of adventure and the outdoors, in summer 2020 Joar started the process of obtaining his private pilot's license with the ultimate goal of acquiring a commercial pilot's license.
Sponsors
Helgelands Sparebank
Joyce and Peter Duncan
Pedro Garcia & Marc Millican
Libby Harrop
Delphi Lavender
GoNorth! Adventure Learning
Chukotka Discovery
Rana Trekk & Brukshundklub
Handler Import

Connectria
Arctic Chiropractic & Physical Therapy
Canelana
OT Sleds Products
Non-Stop Dogwear
Lovund
Nova Sea
Solveig Leifseth, Vegar Leifseth Ulsom & Gunnar Ulsom
2017 Standings
Checkpoint
Time In
Dogs In
Time Out
Dogs Out
Rest Time
Previous
Layover
Status
Distance
Enroute Time
Speed (mph)
8hr
24hr
Fairbanks
3/06 12:12:00
16
Nenana
3/06 17:30:00
16
3/06 20:29:00
16
2h 59m
5h 18m
11.32
60
Manley
3/07 09:00:00
16
3/07 09:09:00
16
0h 9m
12h 31m
7.19
90
Tanana
3/07 20:56:00
16
3/08 02:09:00
14
5h 13m
11h 47m
5.60
66
Ruby
3/08 21:27:00
14
3/09 00:32:00
14
3h 5m
19h 18m
6.17
119
Galena
3/09 06:28:00
14
3/10 07:38:00
14
25h 10m
5h 56m
8.43
50
Huslia
3/10 21:04:00
14
3/10 21:12:00
13
0h 8m
13h 26m
6.10
82
Koyukuk
3/11 12:26:00
13
3/11 20:26:00
12
8h 0m
15h 14m
5.65
86
Nulato
3/11 22:39:00
12
3/11 22:40:00
12
0h 1m
2h 13m
9.92
22
Kaltag
3/12 03:40:00
12
3/12 06:50:00
12
3h 10m
4h 0m
11.75
47
Unalakleet
3/12 20:38:00
12
3/12 20:48:00
10
0h 10m
13h 48m
6.16
85
Shaktoolik
3/13 02:19:00
10
3/13 02:28:00
10
0h 9m
5h 31m
7.25
40
Koyuk
3/13 11:36:00
10
3/13 14:25:00
8
2h 49m
9h 8m
5.47
50
Elim
3/13 21:16:00
8
3/13 22:33:00
8
1h 17m
6h 51m
7.01
48
White Mountain
3/14 05:15:00
8
3/14 13:15:00
8
8h 0m
6h 42m
6.87
46
Safety
3/14 19:56:00
8
3/14 19:58:00
8
0h 2m
6h 41m
8.23
55
Nome
3/14 23:00:40
8
3h 2m
7.25
22