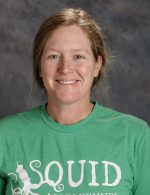 Biography
Paige Drobny was born in Bryn Mawr, Pennsylvania, and says she moved all over growing up. She graduated from Virginia Tech in 1997 with her B.S. in Biology and from UAF in 2008 with her M.S. in Fisheries Oceanography. Before moving to Fairbanks in 2005 for graduate school, she lived in Colorado and was a fisheries biologist. "I enjoy the outdoor lifestyle. I work as a fishery biologist and help my husband, Cody Strathe, build dogsleds for our company, DogPaddle Designs, during the summer. Our mushing started in 2006 as a way to explore the wilds of Alaska with no plan to ever do any racing. We spent several years camping and traveling with our dogs. In 2010, Cody and I decided to give it a whirl and entered the GinGin 200 together…we had a blast, and suddenly we were on the slippery slope." Paige has run the Iditarod eight times.
Sponsors
Clear Alaskan Glacial
TNT Dog Center
North Star Optical
Woodland Wellness Center
T Rose Veterinary Service

Hard Eats
Heather's Choice
Manmat CZ
Fairbanks Chevrolet Buick GMC
Drobny and Strathe Families and our amazing dog sponsors.
Awards
Most Improved Musher — Sponsored by Matson


2019 Standings
Checkpoint
Time In
Dogs In
Time Out
Dogs Out
Rest Time
Previous
Layover
Status
Distance
Enroute Time
Speed (mph)
8hr
24hr
Willow
3/03 15:16:00
14
Yentna
3/03 19:30:00
14
3/03 19:33:00
14
0h 3m
4h 14m
9.92
42
Skwentna
3/04 01:32:00
14
3/04 01:42:00
14
0h 10m
5h 59m
5.01
30
Finger Lake
3/04 10:35:00
14
3/04 10:37:00
14
0h 2m
8h 53m
4.50
40
Rainy Pass
3/04 14:00:00
14
3/04 17:48:00
13
3h 48m
3h 23m
8.87
30
Rohn
3/04 22:10:00
13
3/04 22:26:00
13
0h 16m
4h 22m
8.02
35
Nikolai
3/05 12:02:00
13
3/05 16:20:00
13
4h 18m
13h 36m
5.51
75
McGrath
3/05 23:16:00
13
3/05 23:19:00
13
0h 3m
6h 56m
6.92
48
Takotna
3/06 02:10:00
13
3/07 02:36:00
13
24h 26m
2h 51m
6.32
18
Ophir
3/07 05:15:00
13
3/07 05:22:00
13
0h 7m
2h 39m
8.68
23
Iditarod
3/07 19:38:00
13
3/08 00:28:00
13
4h 50m
14h 16m
5.61
80
Shageluk
3/08 08:20:00
13
3/08 16:20:00
12
8h 0m
7h 52m
6.99
55
Anvik
3/08 19:36:00
12
3/08 19:40:00
12
0h 4m
3h 16m
7.65
25
Grayling
3/08 21:59:00
12
3/09 02:25:00
12
4h 26m
2h 19m
7.77
18
Eagle Island
3/09 09:28:00
12
3/09 14:28:00
12
5h 0m
7h 3m
8.79
62
Kaltag
3/10 05:18:00
12
3/10 08:54:00
12
3h 36m
13h 50m
4.34
60
Unalakleet
3/11 00:47:00
12
3/11 04:37:00
12
3h 50m
15h 53m
5.35
85
Shaktoolik
3/11 10:35:00
12
3/11 15:44:00
12
5h 9m
5h 58m
6.70
40
Koyuk
3/12 00:08:00
12
3/12 06:42:00
12
6h 34m
8h 24m
5.95
50
Elim
3/12 13:26:00
12
3/12 15:57:00
12
2h 31m
6h 44m
7.13
48
White Mountain
3/12 23:04:00
12
3/13 07:15:00
11
8h 11m
7h 7m
6.46
46
Safety
3/13 17:36:00
11
3/13 17:38:00
11
0h 2m
10h 21m
5.31
55
Nome
3/13 21:09:37
11
3h 31m
6.26
22