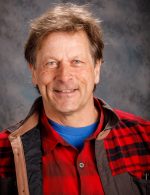 Biography
Born in Winterthur, Switzerland in 1958, Martin became fascinated with sled dogs while still a teen. He came to Alaska in 1979 to enhance his knowledge of care and training of sled dogs. He began working and training with long-time Alaskan mushers Earl and Natalie Norris and ran his first Iditarod in 1980. Martin and wife Kathy Chapoton, a retired teacher, reside in Big Lake, Alaska, where the family owns and manages Happy Trails Kennel. They have two sons, Nikolai, 30 years old and Rohn, 28.
Martin started and completed thirty-five Iditarod races, thirty-three consecutively (holding the record for consecutive finishes) and entered the 2019 race. He is a four-time Iditarod champion, winning in 1992, 1994, 1997 and 2002. His greatest pride comes with being a five-time winner of the Leonhard Seppala Humanitarian Award for Best Dog Care.
Martin finds great pleasure in training and traveling with his sled dogs. He shares his knowledge and passion for Alaskan huskies and mushing by speaking in schools, giving summer tours and presenting motivational speeches.
He is on the Board of Directors for the Blood Bank of Alaska; believing in its mission he has donated xxx gallons of blood. He is also an honorary Rotary Member after participating for many years as an active member and being part of the End Polio campaign.
Following Martin's 2002 Iditarod victory, the process for his becoming a naturalized citizen of the United States was completed under the burled arch in Nome.
Upon completion of the 2005 Iditarod after a woodworking accident 4 days prior to the race start resulting in the amputation of a part of his finger; his fellow mushers awarded him both the Sportsmanship and Most Inspirational Awards.
Martin was the first musher to complete the Iditarod in less than 9 days and held that record for nine years.
Martin's book, DOG MAN, is the story of self-discovery and takes the reader with him on the adventures, misadventures and lessons learned from his devoted relationship with his canine friends.
Martin is forever in awe of the spirit and ability of the Alaskan husky.
Sponsors
Ace Kennel Crew - James Volek, Heather Palmer Volek and Tim Pappas
Diversified Tire
Alaska Hand-Elbow-Shoulder Specialists
AIH
Kendall Auto Group
2019 Standings
Checkpoint
Time In
Dogs In
Time Out
Dogs Out
Rest Time
Previous
Layover
Status
Distance
Enroute Time
Speed (mph)
8hr
24hr
Willow
3/03 14:38:00
14
Yentna
3/03 18:28:00
14
3/03 18:44:00
14
0h 16m
3h 50m
10.96
42
Skwentna
3/04 02:14:00
14
3/04 02:18:00
14
0h 4m
7h 30m
4.00
30
Finger Lake
3/04 11:23:00
14
3/04 11:24:00
14
0h 1m
9h 5m
4.40
40
Rainy Pass
3/04 14:44:00
14
3/04 19:01:00
14
4h 17m
3h 20m
9.00
30
Rohn
3/04 23:16:00
14
3/04 23:24:00
14
0h 8m
4h 15m
8.24
35
Nikolai
3/05 13:20:00
14
3/05 19:02:00
14
5h 42m
13h 56m
5.38
75
McGrath
3/06 02:39:00
14
3/06 06:35:00
12
3h 56m
7h 37m
6.30
48
Takotna
3/06 09:08:00
12
3/06 09:09:00
12
0h 1m
2h 33m
7.06
18
Ophir
3/06 12:12:00
12
3/06 18:23:00
12
6h 11m
3h 3m
7.54
23
Iditarod
3/07 13:46:00
12
3/08 14:50:00
12
25h 4m
19h 23m
4.13
80
Shageluk
3/08 21:32:00
12
3/09 06:03:00
12
8h 31m
6h 42m
8.21
55
Anvik
3/09 09:06:00
12
3/09 09:08:00
12
0h 2m
3h 3m
8.20
25
Grayling
3/09 11:24:00
12
3/09 16:21:00
12
4h 57m
2h 16m
7.94
18
Eagle Island
3/09 23:20:00
12
3/10 07:58:00
12
7h 38m
6h 59m
8.88
62
Kaltag
3/10 17:21:00
12
3/11 04:58:00
12
11h 37m
9h 23m
6.39
60
Unalakleet
3/11 16:14:00
12
3/12 02:18:00
12
10h 4m
11h 16m
7.54
85
Shaktoolik
3/12 09:59:00
12
3/12 16:55:00
12
6h 56m
7h 41m
5.21
40
Koyuk
3/13 00:10:00
12
3/13 09:41:00
12
9h 31m
7h 15m
6.90
50
Elim
3/13 16:41:00
12
3/14 00:26:00
12
7h 45m
7h 0m
6.86
48
White Mountain
3/14 06:58:00
12
3/14 15:02:00
12
8h 4m
6h 32m
7.04
46
Safety
3/14 21:55:00
12
3/14 21:55:00
12
0h 0m
6h 53m
7.99
55
Nome
3/15 01:16:24
12
3h 21m
6.57
22