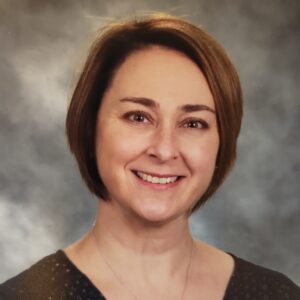 The Iditarod Education Department is pleased to announce our 2023 Iditarod Teacher on the Trail, Julianne Westrich.  Juli is the Iditarod's 24th Teacher on the Trail, a title earned through a rigorous application and selection process.  Based on her written application, she was selected as one of 3 finalists that were invited to Alaska to complete the application through in-person interviews, daily website posting, conference presentations, and other Iditarod education based tasks.  Based on her application and her in-person experience, she was offered the job for 2023.
She said, "Finding out I was selected as the 2023 Iditarod Teacher on the Trail was overwhelming, so many feelings rushed up at once.  I am thrilled and honored to have been chosen, and to be in the company of the former Teachers on the Trail who are all exceptional world-class educators.  I am excited to embark on the adventure of a lifetime.  I am giddy at the prospect of meeting mushers whom I have followed for years in the race.  I am enthusiastic about creating fun lessons that can support teachers and spread the Iditarod into more classrooms."
Juli has worked with students in non-traditional educational settings for more than two decades. She is an educator at heart and thrives by sharing all different types of content in unique ways with learners of all ages.  It comes as no surprise that as a librarian she loves reading.  Currently she is the Kindergarten – 3rd Grade Librarian in the West Irondequoit School District in Rochester, NY.
She shared her ideas about the upcoming year. "Many educators are seeing a real deficit in student social emotional growth.  The Iditarod provides real examples of life-lessons that can support students in this area. I realize that classroom teachers have a lot on their already over-filled plates and could use some of my library lessons to integrate Iditarod into their class curriculum. I look forward to combining these two concepts – SEL and bite-sized lessons – to create plans that can fit into a morning meeting or class check-in.  In addition, as a museum educator at heart I hope to create more in-depth lessons that relate to the stories that objects, photographs, and memorabilia can tell us about the history of Alaska – and how that history connects to us today."
She currently lives in NY with her husband, Kevin, daughters Meredith, Claire and Elise, and her very small, non-sled pulling chihuahua-pug mix Poppy.