Paws Along the Trail with the Countdown
The Iditarod.com countdown shows we're getting close to March 3rd, the start!  I have included a PDF of some Iditarod calendar date squares to use for the March calendar in your classrooms.  You might also be interested in what is coming in the next few days here in Alaska.
Wednesday, February 28 – Any dogs that have not had their check-ups between February 17 and now must come today to Iditarod Headquarters and be checked by veterinarians. Mushers will bring their dogs in dog trucks.  Each dog has a straw-lined compartment in which to ride. The vets will be outside with the dogs checking their hearts, hydration, lungs, and legs/joints. Rule 40 in Race Rules tells about all the health and safety checks the Iditarod requires. They want to be sure these canine athletes are in top physical shape for their adventure across Alaska.  Mushers may have 24 dogs examined, but must narrow down their teams to a maximum of 16 to start the race.  Teachers from the Iditarod Winter Conference will be there to watch and learn!
Thursday, March 1st – All the mushers have a mandatory meeting. The dogs stay home. There is a musher meet-and-greet from 4 – 6 PM where friends/fans can get autographs. Following that, the annual musher banquet begins. Mushers will come up on stage to say a few words, thanking family, friends, and sponsors. The traditional mukluk boot will be tilted toward each musher to draw out  his/her starting position in the 2018 Iditarod Race.
Friday, March 2nd – The mushers will be making last minute preparations for the race on Saturday. Those of us riding in mushers' sleds attend an Iditarider meeting so we learn about this privilege!  Use this link to read about all the Iditariders and their host mushers!
http://iditarod.com/meet-the-2018-iditariders/
Saturday, March 3rd – The mushers all come to the streets of Anchorage for the Ceremonial Start, beginning at 10:00 AM! Ceremonial Start means it's not the real race yet. It's a fun celebration! The mushers only go eleven miles this day.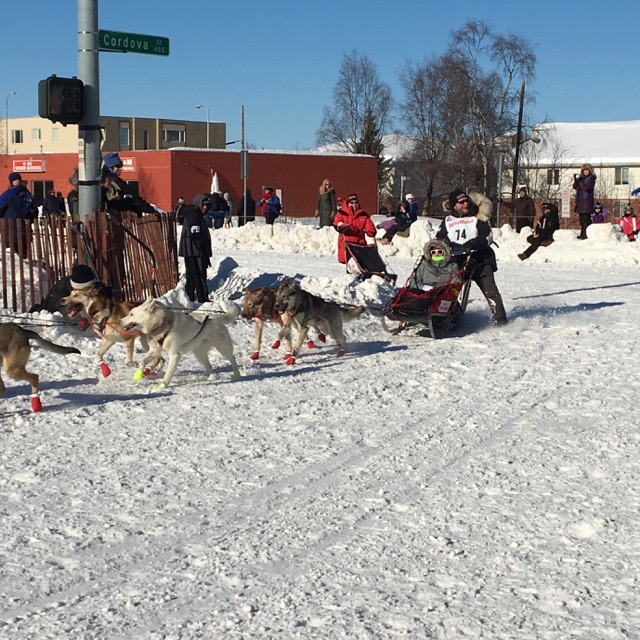 Sunday, March 4th – Restart Day is the real start of the race from Willow Lake. On this day, the mushers will begin to mush toward Nome!