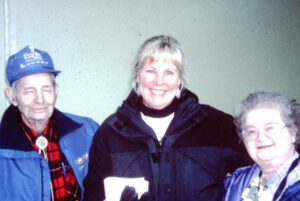 Leaving the 1999 Musher Banquet I had the pleasure of meeting and having a picture taken with Joe Redington, Sr. and his lovely wife, Violet. It was a total surprise and is a treasured photo I am so fortunate to have. What a way to begin my trail adventure many years ago!
I had such wonderful experiences meeting teachers and students in many of the villages on the southern Iditarod Trail. Nikolai was one of my special places as I really enjoyed the teacher and spending time in her classroom. I learned an amazing amount about how she used customs and cultural activities to integrate the Upper Kuskokwim Athabaskan language and English. It fascinated me!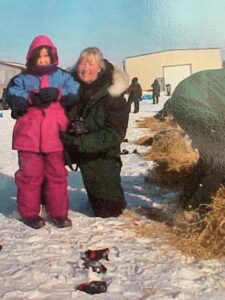 This  young student asked if she could have her picture taken with a wind/snow blown red cheeked Teacher on the Trail and I simply had to say, Yes! I was gifted with this photo!