Summer Camp for Educators!
Each camp is an unique experience but this summary will provide you with basic background about this event.  Exact details for the camp experience are finalized in May of each camp season.

TRAVEL & TRANSPORTATION INFO:
Plan to arrive in Anchorage on or before Friday and be ready to hop on the sled Saturday at noon.  Campers will be meeting at the Lakefront Hotel to meet drivers and be transported to our summer camp.

Travel from your location to Anchorage and back is your own financial responsibility.
We recommend planning to leave Anchorage after six pm on Monday, the last day of camp. 
Car rental is not recommended or required, however you may wish to rent a car especially if you are wanting to explore on your own once we reach Wasilla & if you extend your stay.  Should you rent a car and be driving it to camp, please note that you are NOT required to be a driver to our camp events.  We have transportation provided to our campers.  Should you wish to be a volunteer driver, contact us.  All expenses are your own responsibility, however.

**There are many things to see and places to explore… if you would like to explore on your own we suggest staying a few days after summer camp concludes. 
LODGING INFO:
Lodging expenses are ADDITIONAL to the camp registration fee.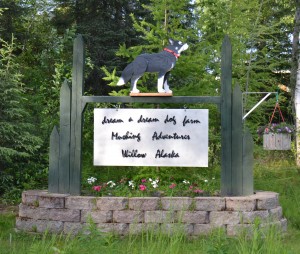 Dream a Dream Homestead:  We will take care of making your reservations for you!  No need for you to contact Vern Halter.  We do that for everyone in one camp reservation. You will pay the Dream a Dream  for your stay at the rate of about $55 per night.  We will be staying 4 nights at this location.

Anchorage:  We recommend the Lakefront Anchorage, A Millennium  Hotel.  The Lakefront serves as Iditarod Headquarters during the race!
Wasilla: Recommendation:  Grand View Inn and Suites.  Room share situations may be arranged between campers to help decrease camper costs.  Let other campers know if you are interested in sharing a room to cut your own costs.

These recommended hotels are our pickup/drop off locations.  Should you stay elsewhere, you will need to provide your own transportation to and from our pickup  locations.  If you are renting a vehicle, please note that since we provide transportation to and from our events, you may park and ride with our designated drivers.  However you are welcome to be a volunteer driver should you wish to do so, please speak with Diane Johnson about your volunteer decision.

MEALS:
Most, but not all, meals are included in the event.
While at the Dream a Dream , except for one evening meal, all meals are included in your camp fee.  (Light breakfast, lunch, evening meal, and snacks.)  One meal will be your responsibility on the night we travel to Talkeetna.
Meals are planned with a healthy lifestyle in mind. Please inform us of any dietary restrictions and/or allergies at registration.  You may also bring snacks or special drinks to camp should you desire to supplement our meal plan.

CAMP SWAG:
Sorry, no free puppies…..  but:
there will be lots of goodies for you to use in your classroom! 
WHAT TO PACK:
The weather can be fickle in Alaska so it is good to prepare for multiple temperatures and types of precipitation.  You know best if you run hot or cold…but here's a quick list of suggested items:

Warm jacket
Sweatshirt/ Sweater
Rain Jacket
Sunglasses
Hat
Bug Spray
Shoes/Sneakers
Slippers or lightweight shoes to wear around the Dream a Dream facility.
Boots
CAMERA! 
We will be spending lots of time in the dog kennel.  Bring boots or shoes appropriate for helping with chores (if you choose to have a hands on experience), wandering around the kennel, and hiking on roughed out trails in the woods.  Muck boots or knee high rubber boots are great for rainy weather and chores at the kennel, but not essential.  *Hiking is not required, however, this is all up to your own judgment and personal health.  Vern also has gear you can borrow.  No worries!  If you forget something or suddenly need something, we'll help you!  There is also a wash machine available at the Dream a Dream facility.

We'll be going on early morning walks through damp wooded areas with the puppies.  If you wish to participate on these walks, and we hope you do, you'll be most comfortable and enjoy this experience if you are properly dressed!
OPTIONAL but SUGGESTED ITEMS TO BRING TO ALASKA: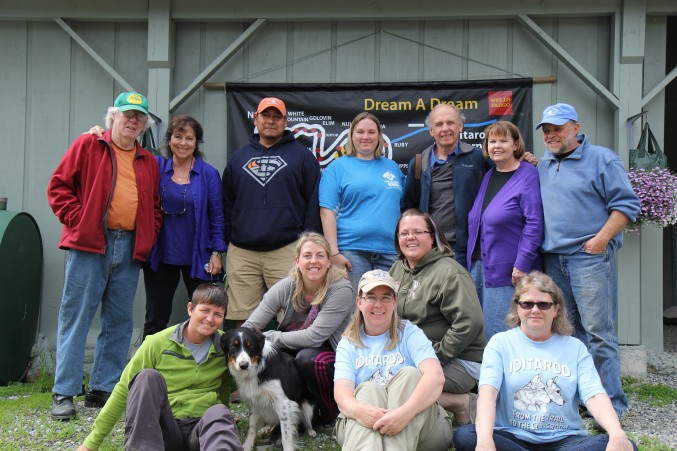 Laptop computer:  
•  We will demonstrate how technology can be used in the classroom before, during, and after the Iditarod.   
• A lap top is also a great resource for you to journal or begin working on your own curriculum. 
• There is Internet service at the Dream a Dream Dog Farm but it is sometimes a little 'iffy'.  
Cell Phone:  
• Most have service at the Dream a Dream, but you might need to find a place outside, on the driveway, for best reception. Check with your cell phone service for specific information about reception in Alaska.  
• If you have a portable hotspot, you can bring it.  Keep in mind that it may or may not work.  
• You may also want to consider increasing your data plan for June/July so that you can easily send images or video without worry.
An empty suitcase:  
Many summer campers buy a suitcase or they simply mail items home! In other words, pack light if you like to shop!
Check air line regulations about luggage and discover what works best for your individual situation!
OK, we've got post offices in Alaska, so you can always mail a box or two from the post office to your home!   (Seriously… you will end up with all sorts of Iditarod goodies and treasures that you will want to bring back for your classrooms! ) 
On our 'sight seeing adventures', we can point you in the direction of the post office! 
Sharpie markers:  
The Volunteer Picnic and Sign-Up, sessions with mushers and authors, and many other activities will provide you with loads opportunities for collecting autographs! 

Some teachers bring their favorite Iditarod related books to collect autographs.   We'll also give you some tips on items that make terrific classroom decorations once covered in autographs that you can purchase while you are here!
Curiosity:
Bring questions you'd like answers to or topics you'd like to know more about! We will share with you as much information as possible for you to bring back to your students. 
All you ever wanted to learn about Iditarod is waiting for you at Summer Camp making this workshop an amazing opportunity!
For Further Information & To REGISTER: CLICK HERE