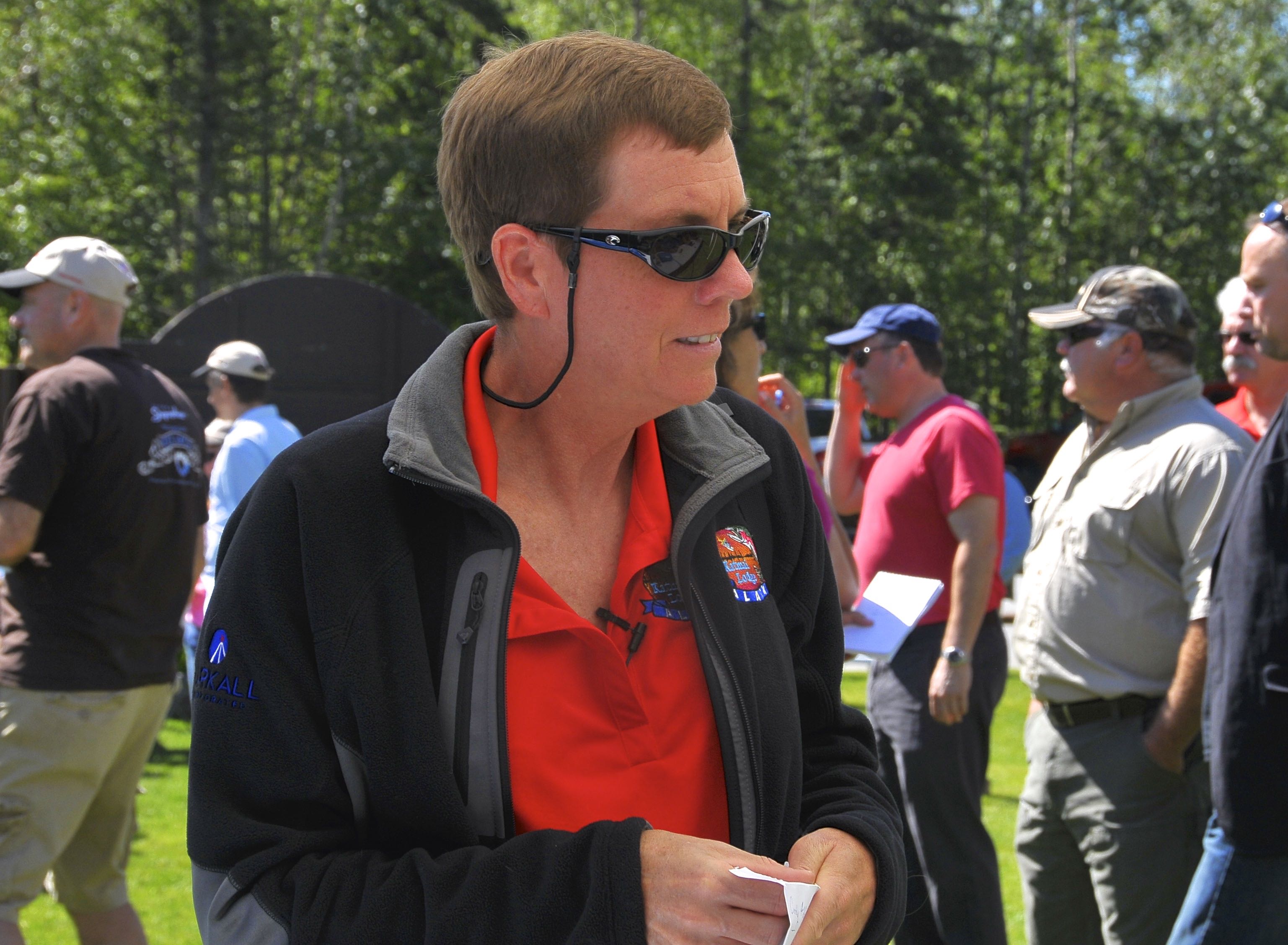 We have had to make a change in our journey. Due to lack of snow and poor trail conditions on several sections of the Southern route, the Iditarod Trail Committee has decided to move the restart to Fairbanks. This was a tough decision, but it is what is best for the mushers and dogs. A map of the new route can be found at the bottom of this page. A new list of materials to use for the new route can be found here. Additional information can be found here.
According to the new trail, mushers will leave Nulato and travel approximately 47 miles to Kaltag. Mushers can plan on a 3-5 hour journey. We will be following rookie musher Cindy Abbott to Kaltag.
The 2015 Iditarod will be Cindy's third attempt to cross under the Burled Arch in Nome. Her first attempt came in 2013 when she was forced to scratch due to a broken pelvis. Her second attempt was last year when she scratched in Rohn due to poor trail conditions and the safety of her dogs. As an avid fan and friend of Cindy's, I feel this is the year we will see her in Nome.
Cindy is a true inspiration to anyone with a dream. She was diagnosed with a very rare disease, Wegener's Granulomatosis, but this has not stopped her from achieving her dreams. In 2010, while fighting this disease, Cindy made it to the top of the world as she summited Mt. Everest. My class has spoken to Cindy about this climb and she stated running the Iditarod is more challenging than climbing Mt. Everest. She has to take care of 16 dogs and herself out on the treacherous trail.
652 miles into the 2013 Iditarod, Cindy and her dogs depart Eagle Island for a long and painful run to Kaltag. Since day one, Cindy has felt an agonizing pain in her pelvis. Determined to make it to Nome, she continued on. For the first 30-35 miles the trail was flat, but had solid, crusty drifts. This was tough running for her dogs and even worse for Cindy. Every single bump along the way sent a wave of excruciating pain through her body.
As she gets closer and closer to Kaltag, she will see it up high on the bank on the west side of the river. Before she arrives she will continue to bounce down the trail before she must make a short climb up the riverbank.
When Cindy and the dogs arrived in Kaltag, her pelvis had collapsed to the point that she could not stand anymore. Before taking care of herself, Cindy's number one priority was the dogs. She did all of her chores of taking care of the dogs on her hands and knees, she could not walk. At this point, she knew she would be scratching in Kaltag, it was what would be best for both her and the dogs.
Cindy did not see much of Kaltag. She was taken to their new medical clinic where she was examined. The next morning she was flown out of Kaltag to a hospital. Cindy was heartbroken to leave her dogs. The relationship between humans and dogs is beyond words. The result of her injuries was a broken pelvis. Cindy had been running close to 700 miles on a broken pelvis.
Cindy and her dogs will be back in Kaltag this year. The Fairbanks trail hooks back up with the original Iditarod trail in Nulato, just north of Kaltag. Determination, perseverance, hard-work, and a positive attitude will guide Cindy along the trail this year. Her journey to Nome began over three years ago. No matter how long it takes, she will cross under the Burled Arch.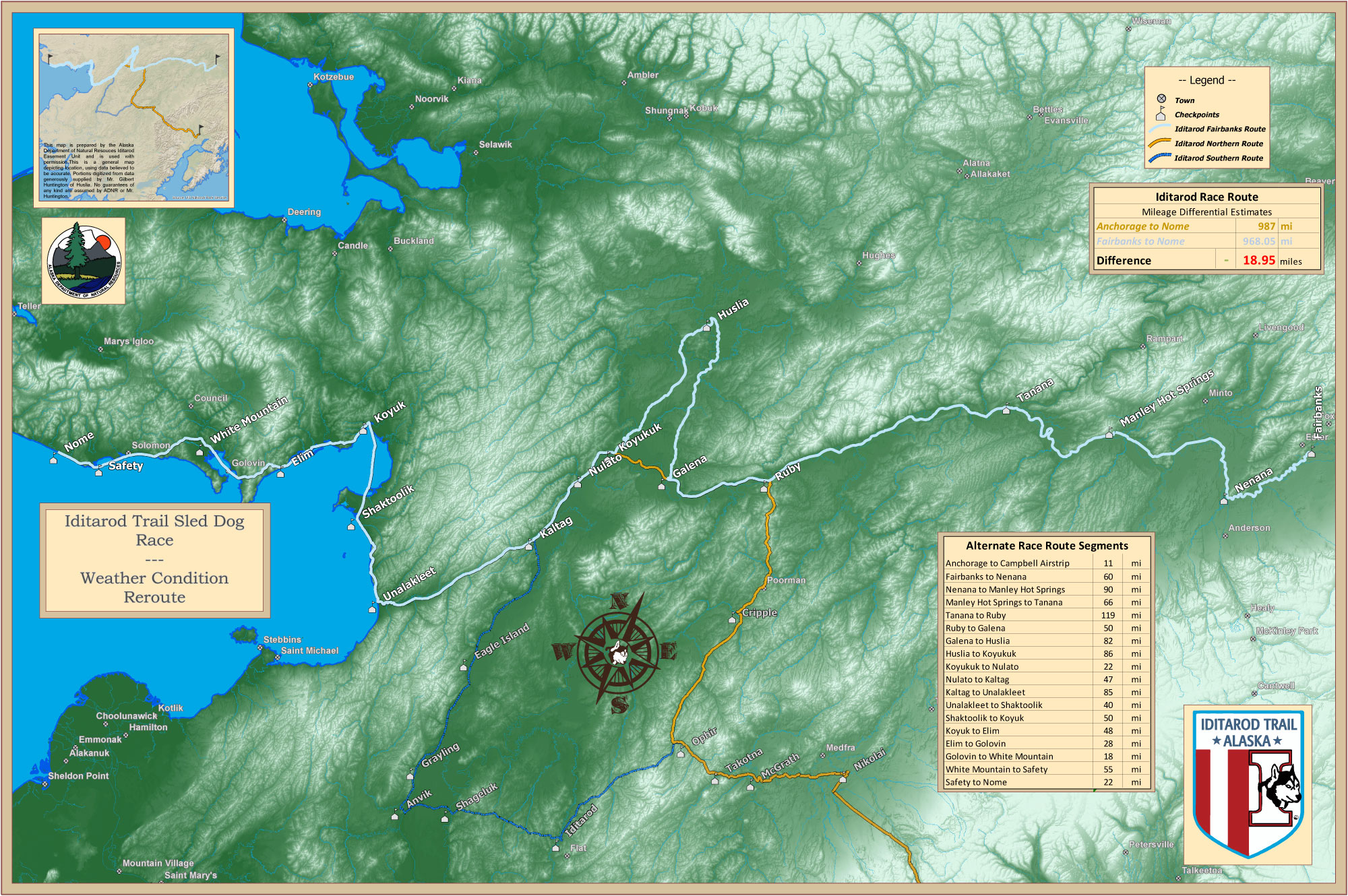 Read more about the village of Kaltag in Virtual Trail Journey.
Read more about the trail between Nulato and Kaltag in Don Bowers Trail Notes.
Writing Prompt
Think of a time when you quit something because it was too hard. Rewrite the ending to that story so you did not quit and finished.