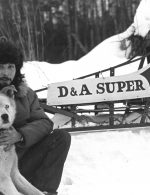 Rick Mackey
Bib Number:
69
Hometown:
Nenana, Alaska
Biography
Rick Mackey, born in Concord NH on May 1, 1953, came to Alaska in 1959. Helping his father, Dick Mackey, prepare for the first Iditarod race in 1973, Rick has always been a part of the Iditarod and sled dog racing has always been a part of him.
Racing dogs since 1964, the 2004 Race will be his 22nd Iditarod Race. Rick won the 1983 Iditarod and has placed in the top ten numerous times. He is known for taking excellent care of his team and having a very strong team of dogs. He has won the award for the fastest time between Safety and Nome five times.
"There is a time for every season" and this seasoned veteran musher is ready to go. After taking a two-year break from racing the Iditarod he is ready and willing to cross the finish line in Nome. Rick Mackey has been married to Patty for 30 years and is the father of two children, Brenda 25, and Roland 7.
Rick lists himself as the self-employed owner of a sled dog kennel where he raises, sells, boards, leases and tours his own dogs. He does work at a lumber company in the summer when he doesn't work with his dogs.
2004 Standings
Checkpoint
Time In
Dogs In
Time Out
Dogs Out
Rest Time
Previous
Layover
Status
Distance
Enroute Time
Speed (mph)
8hr
24hr
Anchorage
3/06 12:29:00
12
BLM
3/13 15:20:00
12
3/13 23:21:00
12
8h 1m
170h 51m
Willow
3/14 07:30:00
12
3/14 15:42:00
12
8h 12m
8h 9m
3.80
31
Yentna
3/14 22:00:00
12
3/15 04:00:00
11
6h 0m
6h 18m
2.70
17
Skwentna
3/15 09:09:00
11
3/15 09:30:00
11
0h 21m
5h 9m
6.60
34
Finger Lake
3/16 03:07:00
11
3/16 11:32:00
10
8h 25m
17h 37m
2.55
45
Rainy Pass
3/16 17:33:00
10
3/16 23:14:00
10
5h 41m
6h 1m
4.99
30
Rohn
3/17 08:06:00
10
3/17 16:14:00
9
8h 8m
8h 52m
5.41
48
Nikolai
3/17 23:18:00
9
3/18 05:14:00
9
5h 56m
7h 4m
13.16
93
McGrath
3/18 12:00:00
9
3/18 20:34:00
9
8h 34m
6h 46m
7.09
48
Takotna
3/19 04:09:00
9
3/19 04:12:00
9
0h 3m
7h 35m
3.03
23
Ophir
3/12 13:11:00
3/12 23:43:00
12
10h 32m
-160h -1m
-0.24
38
Cripple
3/11 19:21:00
12
3/11 22:14:00
12
2h 53m
-29h -22m
-2.04
60
Ruby
3/06 13:38:00
12
-129h -36m
-0.86
112
Galena
3/07 12:14:00
16
52
Nulato
3/07 17:36:00
16
3/07 17:50:00
16
0h 14m
5h 22m
9.69
52
Kaltag
3/08 00:41:00
16
3/08 01:20:00
15
0h 39m
6h 51m
6.13
42
Unalakleet
3/08 11:34:00
15
15
10h 14m
8.79
90
Shaktoolik
3/08 18:10:00
15
3/08 21:35:00
15
3h 25m
40
Koyuk
3/09 03:03:00
15
3/09 09:33:00
14
6h 30m
5h 28m
10.61
58
Elim
3/10 00:15:00
14
3/10 07:00:00
12
6h 45m
14h 42m
3.27
48
White Mountain
3/10 12:13:00
12
3/11 12:54:00
12
24h 41m
5h 13m
8.82
46
Safety
3/11 15:01:00
12
3/11 16:27:00
12
1h 26m
2h 7m
25.98
55
Nome
3/19 07:01:35
182h 34m
0.12
22