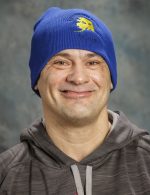 Biography
Hugh Neff, 50, was born in Tennessee. He grew up in Evanston, Illinois and attended Loyola Academy and the University of Illinois. Before moving to Alaska in 1995, Hugh worked as a professional golf caddy in Evanston, Illinois. Since moving to Alaska, he lived in numerous Interior Athabaskan villages and moved to Tok in 2010. He began mushing in 1995 and after reading Iditarod Classics by Lew Freedman, he became interested in running the Iditarod. Hugh has competed in thirty 1,000 mile races since 2000, 17 Yukon Quests and 13 Iditarod's. He has twice won the Yukon Quest. He lists his occupation as dog musher. He is an Eagle Scout and a member of the Tok Dog Mushers and says he enjoys back packing, canoeing and travel. Hugh says, "Dogs are my life. We participate in the Iditarod to have fun. Our goal is to get to Nome and enjoy life as much as possible – Alaskan Huskies are #1's!" Hugh is married to Olivia.
Sponsors
Momentum Dog Food/Dr. Tim's Pet Food Company
Mary & Lisa Akers
The Bootie Brigade
Arrowhead Fabrics
The Bloomin' Crew
Crew
Carol & George Figdore
June Shelley, CA

Mike & Trudy Hendricks
Bruce Hagstrom
Gillian Reynolds
Fred Smith
Mike Baye, IL
Eric Jayne/Alaska Bush Vet
Alisa & Jesse Guzman
Gartner Lee, Ltd.
2007 Standings
Checkpoint
Time In
Dogs In
Time Out
Dogs Out
Rest Time
Previous
Layover
Status
Distance
Enroute Time
Speed (mph)
8hr
24hr
Anchorage
3/03 11:23:00
12
Campbell Airstrip (BLM)
3/03 12:22:00
12
0h 59m
Willow
3/04 15:14:00
16
59
Yentna (YENT-na)
3/04 18:31:00
16
3/04 18:36:00
16
0h 5m
3h 17m
13.71
45
Skwentna
3/04 21:31:00
16
3/05 03:20:00
16
5h 49m
2h 55m
11.66
34
Finger Lake
3/05 07:49:00
16
3/05 07:51:00
16
0h 2m
4h 29m
10.04
45
Rainy Pass
3/05 11:22:00
16
3/05 16:36:00
15
5h 14m
3h 31m
8.53
30
Rohn (Rone)
3/05 22:19:00
15
3/06 06:15:00
15
7h 56m
5h 43m
8.40
48
Nikolai (NIK-o-lye)
3/06 19:12:00
15
3/07 00:12:00
14
5h 0m
12h 57m
6.18
80
McGrath
3/07 06:35:00
14
3/07 06:42:00
14
0h 7m
6h 23m
7.52
48
Takotna (Ta-COT-na)
3/07 09:23:00
14
3/08 10:51:00
14
25h 28m
2h 41m
6.71
18
Ophir (OH-fur)
3/08 13:13:00
14
3/08 13:27:00
13
0h 14m
2h 22m
10.56
25
Iditarod (I-DIT-a-rod)
3/09 06:46:00
13
3/09 13:55:00
12
7h 9m
17h 19m
5.20
90
Shageluk (SHAG-a-luck)
3/09 23:02:00
12
3/10 07:02:00
12
8h 0m
9h 7m
7.13
65
Anvik
3/10 10:20:00
12
3/10 10:22:00
11
0h 2m
3h 18m
7.58
25
Grayling
3/10 13:05:00
11
3/10 18:48:00
11
5h 43m
2h 43m
6.63
18
Eagle Island
3/11 04:44:00
11
3/11 12:21:00
11
7h 37m
8h 56m
6.72
60
Kaltag (KAL-tag)
3/11 19:45:00
11
3/12 03:22:00
10
7h 37m
7h 24m
9.46
70
Unalakleet (YOU-na-la-kleet)
3/12 13:35:00
10
3/12 19:44:00
9
6h 9m
10h 13m
8.81
90
Shaktoolik (Shak-TOO-lick)
3/13 01:26:00
9
3/13 06:31:00
9
5h 5m
5h 42m
7.37
42
Koyuk (Coy-uk)
3/13 12:38:00
9
3/13 18:25:00
9
5h 47m
6h 7m
7.85
48
Elim (EE-lum)
3/14 00:19:00
9
3/14 03:44:00
8
3h 25m
5h 54m
8.14
48
White Mountain
3/14 10:27:00
8
3/14 18:27:00
8
8h 0m
6h 43m
6.85
46
Safety
3/15 01:12:00
8
3/15 01:14:00
8
0h 2m
6h 45m
8.15
55
Nome
3/15 04:05:15
8
2h 51m
7.72
22