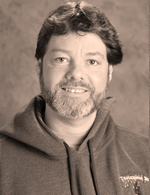 Biography
Bruce Linton, 49, was born in New York City and was raised in the suburbs of Philadelphia. He studied at Shippensburg University of Pennsylvania where he received two degrees, one in Environmental Science and the other in Mathematics/Computer Science. Soon after graduation, Bruce worked as an Environmental Scientist near Boston and at the same time pursued his Master's Degree in Hazardous Waste Management at Tufts University. In 1994, he moved to Vermont and worked for the State of Vermont as an Environmental Analyst.
In 1998, he began mushing and soon after started a dog sled touring business called Green Mountain Dog Sled Adventures. Green Mountain Dog Sled Adventures grew quickly and in 2004 Bruce resigned from his State job to run his sled dog touring business full time. Unexpectedly, the touring business took over his life and he realized that he couldn't live his dreams of training and racing his dogs while at the same time running his business.
Bruce made the big move from Vermont to Alaska in the summer of 2006 with his wife Melissa so that he could fulfill his lifelong dream of running the Iditarod. He has completed the last five Iditarods and has bettered his finishing position each year.
In his spare time Bruce enjoys running marathons and competing in triathlons. He has completed 12 marathons, three Ironman triathlons, and hundreds of other athletic events. Bruce has managed to fulfill all of these accomplishments as a Type 1 diabetic which brings its own set of challenges. Bruce is committed to raise awareness about diabetes and to spread his message that diabetes can achieve anything as long as they take care of themselves, live a healthy lifestyle, and "dream big" with a positive attitude. Bruce believes that diabetes should not be limited by their medical condition and has renamed his kennel to align with that philosophy – No Limits Sled Dog Kennel. He has given talks about the Iditarod and living one's dream to thousands of children around the country and has been featured in several TV shows.
When Bruce is not training his dogs or giving presentations, he is an Environmental Compliance Officer for Homer Electric Association. Bruce and Melissa have a 3 year old son named Brody and a one year old daughter named Shea.
Sponsors
Cindy Barrand
Brendon Johnson
Daryl Gruet
Summer and Kelly Cody
Sue Ann Henry
Barbara & Anlo Dekraai
Barbara Stillwater and family
Tom and Cheryl McGarrity
Brenda Crim
University of Calgary
Alaska Native Medical Center
AK Custon Meats
Kenai Veterinary Hospital
Red Paw Dog Foods
Prairie Bilt Sleds
Daily's Web Design
Echo Lake Meats
Soldotna Animal Hospital
R&J Seafoods
Diana and Stephen Lee
David Holmes
Robert Donald
Mary Horowitz
Adam Mason
Gail Johnson
Patricia and Ryan Daffurrn
Savannah Heiden
John Nagle
Susan Fenn
Bill Nickerson
Jane Fenn
Charley Bejina
Robert Walmsley
Erin and Jack Nelson
Benjamin Flintoff
Ken Haggett
Kellie Peters
Gail Klinck
Karen Frascella
Eric Gershman
Larry Kost
Pascale Savard
Joe Murphy
Mark Englund
Joanne Day
Margo Paris
Steven Rosenblatt
Melody Mitchell
Tara Sweeney
Mary and John Chudzik
Michael Mitchell

Carolyn Arkison
June Reilly
Harrison Landau
Robert Donald
David Stauffer
Dan Mitchell
Jeffrey Chandler
Mary Vyverberg
Mathew Vogel
In memory of Danny Sprabary
Sean Norris
Sheri Colberg-Ochs
Mark Streets
Steve Davis
Melanie Tupaj
Terry Raymer
Debbie Hallenbeck
Sally Screven
Carla and Roger Cox
Joan Neely
Bob Ruch
Stig Olsen
Janice Peace
Diane Douglass
Janet Gordon
Dieter Stenschke
Terry Raymer
Debbie Hallenbeck
Marie Lambert
William and Sara Clegg
Wanda McAleese
Cameron and Bethany Wilson
Patricia and Ryan Daffurn
Donna and Christina Joyner
Ken and Rita Bertini
Vickie Mulas
Jackie Lee Nystrom-Parker
Carol Schantz
Mary Jane Arner
Dana Ann Keeton
Betsy Niles
Melanie Campbell
Chris Steiper
Jamie and Bob Owen
Sid and Debbie Finley
Grey and Roberta Hase
Joanie Graveson
Fred King
Charleen Neles
Mary and Eric Jorgensen
The Diabetic Community and many friends.
2010 Standings
Checkpoint
Time In
Dogs In
Time Out
Dogs Out
Rest Time
Previous
Layover
Status
Distance
Enroute Time
Speed (mph)
8hr
24hr
Anchorage
3/06 12:20:00
12
Willow
3/07 16:06:00
16
Yentna Station
3/07 19:39:00
16
3/07 19:44:00
16
0h 5m
3h 33m
12.68
45
Skwentna
3/07 22:29:00
16
3/08 03:38:00
16
5h 9m
2h 45m
12.36
34
Finger Lake
3/08 09:28:00
16
3/08 12:35:00
15
3h 7m
5h 50m
7.71
45
Rainy Pass
3/08 16:13:00
15
3/08 19:30:00
14
3h 17m
3h 38m
8.26
30
Rohn
3/09 00:06:00
14
3/09 08:02:00
14
7h 56m
4h 36m
10.43
48
Nikolai
3/09 16:42:00
14
3/09 22:04:00
14
5h 22m
8h 40m
8.65
75
McGrath
3/10 03:26:00
14
3/10 06:56:00
14
3h 30m
5h 22m
10.06
54
Takotna
3/10 09:01:00
14
3/10 09:07:00
14
0h 6m
2h 5m
8.64
18
Ophir
3/10 12:05:00
14
3/10 18:15:00
14
6h 10m
2h 58m
8.43
25
Cripple
3/11 07:39:00
14
3/12 08:25:00
14
24h 46m
13h 24m
4.40
59
Ruby
3/12 17:43:00
14
3/12 23:57:00
14
6h 14m
9h 18m
12.04
112
Galena
3/13 06:22:00
14
3/13 12:52:00
13
6h 30m
6h 25m
8.10
52
Nulato
3/13 19:31:00
13
3/14 04:51:00
12
8h 20m
6h 39m
7.82
52
Kaltag
3/14 09:19:00
12
3/14 09:38:00
12
0h 19m
4h 28m
9.40
42
Unalakleet
3/15 02:27:00
12
3/15 10:15:00
12
7h 48m
16h 49m
5.35
90
Shaktoolik
3/15 16:53:00
12
3/15 22:20:00
12
5h 27m
6h 38m
6.33
42
Koyuk
3/16 05:51:00
12
3/16 12:43:00
12
6h 52m
7h 31m
6.39
48
Elim
3/16 18:15:00
12
3/16 19:12:00
12
0h 57m
5h 32m
8.67
48
White Mountain
3/17 01:57:00
12
3/17 10:59:00
11
9h 2m
6h 45m
6.81
46
Safety
3/17 17:47:00
11
3/17 18:10:00
10
0h 23m
6h 48m
8.09
55
Nome
3/17 21:18:33
10
3h 8m
7.02
22