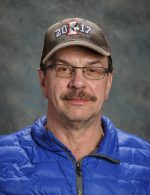 Biography
Alan Eischens 58, is a lifelong resident of Alaska. Having been born in Minnesota, he was raised in the Aleutian Islands, growing up in Adak. While living in Adak, that is where he decided that he would pursue a degree in Biology and Anthropology. While attend UAF, he decided to visit St Lawrence Island, and ended up staying there for 10 years.
Alan has a great love for the outdoors and has had several jobs that allow him to do what he likes, from commercial fishing, to construction work. However, his true passion is being with his dogs. This all come to be in 2011 when Alan and his wife Tanjala, started Double E Kennel in Wasilla. Alan has a huge heart for children and together he and Tanjala decided that the kennels platform would be to Bring Awareness to Pediatric Diseases and Disabilities. They have partnered with National Pediatric Cancer Foundation and continue educated everyone about Pediatric Cancer. Whether training or racing all his miles are for the children that have gone on before us, or those that are suffering.
In 2016 and 2017, Alan was able to bring all 16 dogs across the finish line in Nome. Both times when finishing the Iditarod he would say, "the Kids and I did it"!
Alan and Tanjala own and operate Cable17 in Palmer, Ak. He enjoys hunting, camping, fishing and traveling to visit all the grandchildren, along with visiting children that are or have been effected by Pediatric Diseases and/or Disabilities.
Sponsors
Alaska Warm and Kozy
Dr. Jansma and Family
Alaska Foot and Ankle Specalist
Alaska Sausage and Seafood
Glen's Wild Game Processing
Advanced Data and Fiber

Kirk, Kathie and Arien Sanderson
Ellie Scott
Michael Dyar
George and Francis Eischens
Pizza Delphi
2015 Standings
Checkpoint
Time In
Dogs In
Time Out
Dogs Out
Rest Time
Previous
Layover
Status
Distance
Enroute Time
Speed (mph)
8hr
24hr
Anchorage
3/07 10:11:00
12
Fairbanks
3/09 10:10:00
16
Nenana
3/09 16:20:00
16
3/09 22:30:00
16
6h 10m
6h 10m
9.73
60
Manley Hot Springs
3/10 12:21:00
16
3/10 19:43:00
16
7h 22m
13h 51m
6.50
90
Tanana
3/11 03:14:00
16
3/11 14:25:00
16
11h 11m
7h 31m
8.78
66
Ruby
3/12 18:31:00
16
3/13 22:40:00
16
28h 9m
28h 6m
4.23
119
Galena
3/14 04:53:00
16
3/14 14:54:00
16
10h 1m
6h 13m
8.04
50
Huslia
3/15 04:29:00
16
3/15 15:57:00
16
11h 28m
13h 35m
6.04
82
Koyukuk
3/16 03:40:00
16
3/16 12:04:00
15
8h 24m
11h 43m
7.34
86
Nulato
3/16 14:40:00
15
3/16 16:07:00
15
1h 27m
2h 36m
8.46
22
Kaltag
3/16 21:25:00
15
3/17 11:15:00
15
13h 50m
5h 18m
8.87
47
Unalakleet
3/18 02:30:00
15
3/19 02:07:00
15
23h 37m
15h 15m
5.57
85
Shaktoolik
3/19 08:05:00
15
3/19 13:19:00
15
5h 14m
5h 58m
6.70
40
Koyuk
3/19 22:08:00
15
3/20 08:45:00
15
10h 37m
8h 49m
5.67
50
Elim
3/20 14:45:00
15
3/20 17:41:00
15
2h 56m
6h 0m
8.00
48
White Mountain
3/21 02:39:00
15
3/21 10:45:00
15
8h 6m
8h 58m
5.13
46
Safety
3/21 18:08:00
15
3/21 18:27:00
14
0h 19m
7h 23m
7.45
55
Nome
3/21 21:56:36
14
3h 29m
6.32
22