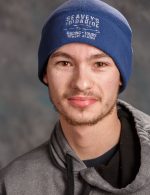 Grayson Bruton
Bib Number:
51
Hometown:
Sterling, Alaska
Biography
Twenty-four-year-old Grayson Bruton was born in Oxnard California and raised in Willow Alaska. In 2000, he caught the mushing bug. Grayson's father (a longtime Iditarod Volunteer) let him volunteer as a runner, helping park mushers and their teams at the restart in Willow. That's all it took to get him hooked.
For the past four years, Grayson has been working for Mitch Seavey as a tour guide/manager at his Glacier operation in Seward and helping train Mitch's team for the 2020 Iditarod. When he's not training he likes to hunt and fish.
Grayson has completed a number of sprint races, as well as the Jr Iditarod, Willow Jr 100, Willow 300, Copper Basin 300, and Tustemena 200.
Sponsors
Mitch and Janine Seavey
Seavey's Iditaride Racing and Tours
Jason and Jennifer Zwiebel
2020 Standings
Checkpoint
Time In
Dogs In
Time Out
Dogs Out
Rest Time
Previous
Layover
Status
Distance
Enroute Time
Speed (mph)
8hr
24hr
Willow
3/08 15:38:00
14
Yentna
3/08 21:10:00
14
3/08 21:16:00
14
0h 6m
5h 32m
7.59
42
Skwentna
3/09 06:22:00
14
3/09 11:58:00
14
5h 36m
9h 6m
3.30
30
Finger Lake
3/09 17:44:00
14
3/09 22:34:00
12
4h 50m
5h 46m
6.94
40
Rainy Pass
3/10 02:18:00
12
3/10 10:15:00
12
7h 57m
3h 44m
8.04
30
Rohn
3/10 14:18:00
12
3/10 20:36:00
12
6h 18m
4h 3m
8.64
35
Nikolai
3/11 12:15:00
12
3/11 19:06:00
12
6h 51m
15h 39m
4.79
75
McGrath
3/12 00:27:00
12
3/13 00:53:00
12
24h 26m
5h 21m
8.97
48
Takotna
3/13 03:05:00
12
3/13 03:10:00
12
0h 5m
2h 12m
8.18
18
Ophir
3/13 05:38:00
12
3/13 10:54:00
12
5h 16m
2h 28m
9.32
23
Cripple
3/14 01:40:00
12
3/14 08:48:00
12
7h 8m
14h 46m
4.94
73
Ruby
3/15 00:44:00
12
3/15 07:38:00
12
6h 54m
15h 56m
4.39
70
Galena
3/15 14:23:00
12
3/15 23:13:00
12
8h 50m
6h 45m
7.41
50
Nulato
3/16 05:44:00
12
3/16 10:52:00
12
5h 8m
6h 31m
5.68
37
Kaltag
3/16 15:30:00
12
3/16 22:33:00
12
7h 3m
4h 38m
10.14
47
Unalakleet
3/17 15:15:00
12
3/18 00:41:00
11
9h 26m
16h 42m
5.09
85
Koyuk
3/18 19:25:00
11
3/19 14:01:00
11
18h 36m
18h 44m
4.80
90
Elim
3/19 19:57:00
11
3/20 08:51:00
11
12h 54m
5h 56m
8.09
48
White Mountain
3/21 13:47:00
11
3/21 21:47:00
11
8h 0m
28h 56m
1.59
46
Safety
3/22 04:20:00
11
3/22 04:24:00
11
0h 4m
6h 33m
8.40
55
Nome
3/22 07:20:09
11
2h 56m
7.50
22