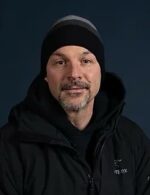 Biography
Will was born and raised in the northwest corner of California and moved to Alaska over 20 years ago. He was introduced to dog mushing during the winter of 98, training dogs with Joe May in the southern Yukon. In 2000 Will met his future wife, Brenda Mackey, on the Juneau Icefield where they worked as sled dog tour guides. Will and Brenda attended UAF and raised their daughter, Isabel, before developing their own kennel in Two Rivers, AK in 2012. Will splits his time dog mushing working as a professional geologist and project manager for Ahtna Engineering Services.
Will has competed in many mid-distance races throughout Alaska since he began racing in 2013 and has received the Humanitarian Award. For Will, breeding, training, and racing sled dogs is an extremely rewarding experience, second to none. He looks forward to traveling the Iditarod Trail with his young and talented dog team.
He is married to Brenda Mackey and they are the parents of Isabel Rhodes.
SPONSORS:
Friends and family