Hello friends,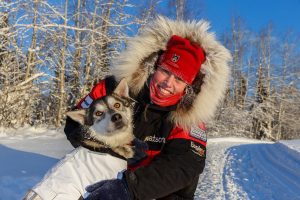 Every year I get asked the same question from students, "Who is your favorite musher?" As a K9 reporter I try to stay impartial, but I can't help it, Aliy Zirkle is my favorite. No one has a brighter smile or more positive energy on the trail. This year is her final Iditarod race, and she will be missed! She has been a great friend of Educators and students alike. Go Aliy! Always a pawsome class act, she wrote a letter to the Iditarod explaining her decision to retire. You can see it here.
Karen has a question about the participants in the Iditarod. As it turns out, this year 40 of the 46 mushers (Sean Williams scratched right before the start) are from Alaska. While typically most of the mushers are from Alaska, this year being a Covid year, the percentage is much higher.  Mushers from the Lower 48 will typically drive to Alaska because flying a large team of dogs can be quite expensive. My friends from Nature's Kennel in Michigan would head to Alaska a few weeks before the race to give the dogs time to adjust after the long ride. Travel through Canada this year made is too difficult to make the trip for many teams. Thanks for the question Karen.
Aliy and the others are on the trail getting into the groove of the race. Awoooooo! Do you have a favorite musher you're keeping your eye on? Any questions can be emailed to askzumadog@gmail.com. I look forward to hearing from you.
Tail wags,
Zuma