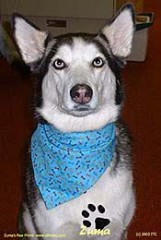 Hello Boys and Girls,
My good friend, Blaine, just got back from a 'pawsome' visit at Brooksville, Maine!
Blaine sent me a letter about the school visit and included pictures so we could meet all of our Brooksville friends!
I hope you enjoy the photos!
Lots of Tail Wags,
Zuma
PS  Click this link to learn more about a special field trip that students from Brooksville are going to  take to Alaska! They'll be at the start of the race!  Can't wait to meet them!
The Adventure in Maine
Blaine here again! Zuma's reporter friend in Pennsylvania!
This time I want to tell you about a great trip I took to a tiny elementary school in Brooksville, Maine! I love road trips! Ten hours tucked down in my van, my bed, water bowl, chew bones, all the comforts of home!
About a month ago, my friend Zorro got a letter from Nada Lepper, a teacher up at Brooksville, telling him that they were taking 12 7th and 8th grade students to the Iditarod! And not only were they going to see the ceremonial start in Anchorage, but they were also flying to the McGrath checkpoint to meet the students there! Well! This was exciting, and Ms. Lepper wanted my human family – Walt and Janet Tremer, Iditarod addicts – to come up and tell them what they are going to see! And of course they wanted to meet me, too!
Last week, there we were, driving through wonderful forest country, along little narrow logging roads down the Penobscot Peninsula to Brooksville! (You know how dogs love trees!). When we got to the school, there were groups of excited students waiting for us! I knew it was going to be a busy and happy day!
It is not a very big school, about 80 students. But I think every one of them petted me sometime during the day! I was in heaven! We first went to the gym (which is also the auditorium and lunchroom), and Walt and Janet showed them many slides about the Iditarod, from the start to the finish in Nome. They showed them a lot about the Finger Lake, Grayling and Galena checkpoints, too. The real fun was after that, dressing some students up in big arctic parkas, mushers headlamps, and showing them the drop bags, my harnesses and the trail markers! After that, it was MY time! I walked around among all the students, giving my big "I'm a pretty sled dog! Pet me!" smile! We had a great time!
Blaine