Hello friends,
Many of my human friends are counting down to Christmas, but here at Iditarod Headquarters we are counting down to the start of the 2018 Iditarod. 88 DAYS AWAY! We love the cold and teams are preparing by taking short runs on the snowy trails. Our summer fur has been shed, and our layers of winter fur help to keep us warm in the chilly northern weather.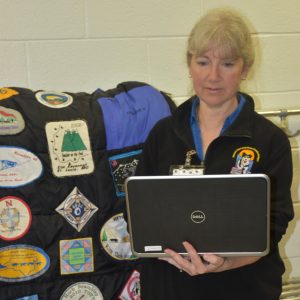 While we prepare for the race by getting out on the trails, Iditarod Teacher on the Trail, Heidi Sloan is preparing lessons for students all over. You can follow her lesson ideas here: https://iditarod.com/edu/category/teacher-on-the-trail/  We canines have the double layer of fur for warmth, but Heidi will need this sleeping bag while she's on the trail for the cold Alaska nights.
Speaking of teachers, preparations are underway for the upcoming Iditarod Conference for Teachers. It's a great opportunity to share educational ideas, meet mushers, and best of all, pet some of my breed.
Enjoy your holiday countdown, and don't forget to mark your calendars for the 2018 Iditarod! WooWooWooooo! Get ready!
Zuma