Hello friends,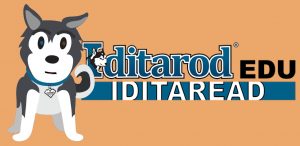 There is a lot happening here at Iditarod Headquarters with mushers and dogs coming and going as they prepare for the Iditarod. But something equally exciting is happening at Iditarod Education – the Iditaread! This is a race you can do with your class, reading across the Iditarod Trail. Your teacher can sign you up with a reading goal and you can watch your avatar, Gia, move down the trail. The more you read, the further you'll get. Look here for more information. While the canines are getting ready to hit the trail with their paws, you can hit the trail with your books. Get on your way to Nome, 3-2-1 GO!
Speaking of Education, check in with our pawsome Teacher on the Trail, Jim Deprez. Due to keeping him and others safe from COVID 19, he won't be able to be on the trail until the 2022 race, but he still has a lot to share with teachers and students.
If you have a question, email me at askzumadog@gmail.com. I'll answer as many questions as I can here in Pawprints.
Tail wags,
Zuma