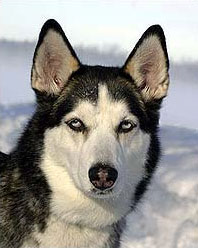 Hello Boys and Girls,
Wow, my friend Nigel has had quite an adventure!
After spending a couple nights in the Alaska wilderness, Nigel, a sled dog from Nancy Yoshida's team was reunited with Nancy.  After a series of bad luck incidents and crashes on the Happy River Steps, and finally reaching Rainy Pass on a broken sled without Nigel, Nancy scratched from the race.  A search for Nigel continued for the days that followed.  On Friday morning, Nigel's tracks were spotted by a pilot and there were soon visual sightings of Nigel.   Nancy then was flown out to the area near Talvista Lodge near Skwentna, Alaska.  When the plane that Nancy was flying in landed, Nigel was safe in 'protective custody' with good folks who live in the area and waiting for Nancy.  Nigel was in the best of health, energetic, and eager to greet Nancy with doggies kisses.
Nigel told me in a private interview that he'd gotten a bit spooked during the crashes and when he couldn't find Nancy and the rest of his team mates, he set out in search of them.  He was glad to meet up with Nancy but he was very surprised to find her getting out of a plan instead of being with the broken dog sled.   He'd asked the people and the animals he met during his time away from the team to keep a look out for his wonderful human and his running mates.  Nigel said that although he felt bad about not being with his team,  he'd had an incredible adventure while on his own.  He is thinking of talking to Nancy about writing a book to tell their story.  "Nigel's Choice sounds like a good title," he said.
Boys and Girls, use your imagination  and write about Nigel's adventure.  Leave comments to share what you think Nigel saw while having his own Iditarod adventure.  What did Nigel think about?  What animals did he meet up with?  What did he dream about while he rested?  Write short stories, create poems, and draw pictures.  You can send me your work samples by leaving blog comments or by  having your teacher email them to me in an attachment.  What fun it will be to show your ideas to Nigel!  We'll share some of the ideas on the website, too.
Lots of Tail Wags,
Zuma