Hello Friends,
What a race! It's been hard for me to keep my paws off the Iditarod Website to catch all the updates. It all started with a snowy day for the Ceremonial Start, and turned into a clear, cold, blue sky day for the Restart. Through the K9 Trail I've been hearing that the running is a little slow, but that's because there is SNOW! We love SNOW!
Watching the tracker it looks like Joar Leifseth Ulsom is in the lead at this writing, but that's kind of deceiving. Other mushers are bedded down for their mandatory 24 hour layover (See Rule 13). Let's start at the beginning. Teams leave the starting line at 2 minute intervals. That's great for the team wearing Bib Number 2 (remember, number one is reserved for the honorary musher).
But what about the 67th team? They leave 134 minutes after the first team. BowWow! That's not fair.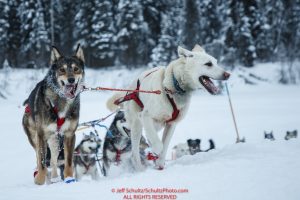 Well, to make it fair, that time is made up after the 24 hour layover.  So Hugh Neff, who was the 67th musher to leave will have a true 24 hour layover. Cody Strathe, the first musher out will have a 24 hour layover PLUS the 134 minutes (2 Minutes x 67 Mushers). Mats Petterson, the second musher out will have 24 hour PLUS 132 minutes, Anna Berrington will have 24 PLUS 130 minutes, and so on. We here at HQ call that the time differential. Now it's your job to see what Joar's time differential is.
Back to that GPS Tracker! Woowoowoooo! This is exciting! 
Tail wags,
Zuma