Hello Friends,
Here at Iditarod Headquarters the humans are busy preparing for this year's race. There is paperwork to prepare, meetings to schedule, mail needing replies, and a constantly ringing phone to answer.  I wanted to stay out of the way so I headed outdoors to take a quick walk. My four paws took me to this statue of Joe Redington, the Father of the Iditarod. Joe created this race because he saw my ancestors dying out and being taken over by the airplane and the  Iron Dog (snow machine). He thought we were important to Alaska with our rich history of working dogs who helped form this beautiful state. Joe also wanted to preserve the Historical Iditarod Trail and worked tirelessly to clear it for the race.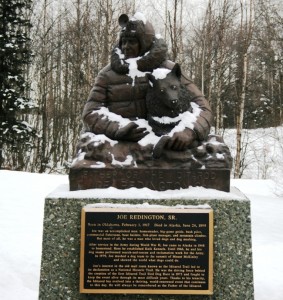 Dick Wilmarth won the first Iditarod in 1973 and it took him 20 days, 49 minutes. Compare that with the 2017 Champion Mitch Seavey who won in 8 days, 3 hours, and 40 minutes.  Wooooooo. That's fast!
Your math lesson from this doggie reporter is to figure out how many years since the first Iditarod THEN compare the times from the 1973 race to the 2017 race. Put those opposable thumbs to good use, grab a pencil, and do some math!
Tail wags,
Zuma