Hello friends,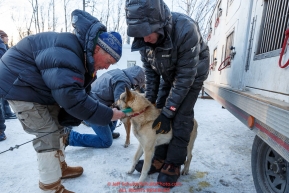 My K-9 friends who are running in this year's Iditarod have been busy preparing for the race, and one of the things they have to do is a Vet Check. There are about 50 Veterinarians who volunteer their time to take care of the K-9 athletes during the Iditarod. The dogs need an EKG, blood work, and they even check our urine (that's dog pee). If the racing dogs don't already have a microchip, a microchip is placed either behind their ear or between their shoulders so they can be tracked throughout the race. 
As the dogs travel down the trail they are checked at each checkpoint by the volunteer Vets. Sometimes it's an intensive check (they even do a surprise check of our pee) and sometimes it's a quick HAW&L.  H=Heart & Hydration. A=Attitude & Appetite. W=Weight. L=Lungs. BowWow!  We are a bunch of well cared for dogs on the Iditarod trail!
Read more about the Vet Check in this Article from ADN.
Tail wags,
Zuma