Hello friends,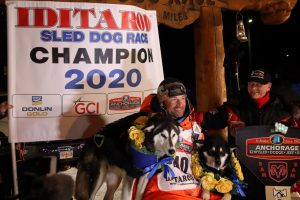 And the winner is Thomas Waerner of Norway! In only his second Iditarod attempt the canines of team Thomas Waerner crossed under the Burled Arch in Nome on March 18 at 12:47 AM. A small crowd was there to cheer his team down Front Street. Awooooo! These strong dogs with K2 and Bark in lead finished The Last Great Race in 9 days, 10 hours, and 37 minutes. Quenby and Theodore from Germany, after the race the dogs will be thoroughly checked over by our volunteer veterinarians. They will get a delicious meal and a nice, long rest. Soon they will be joined in the Dog Lot in Nome by the other teams still out on the trail. The mushers will also get a delicious meal, a SHOWER, and a nice, long rest.
Bow Wow Mrs. Bever's third graders in Ohio. Your question of has any team ever been the last to start and first to finish has me stumped. This year, Paige Drobny started with Bib #58, was the last person to leave the starting line and is currently in 7th place. Even before the balancing out of the time differential she had moved up to run with the top teams. Remember that all teams are evened out after their mandatory 24 hour rest. Thanks for the question.
If you have a question for me, my email is askzumadog@gmail.com.  Remember, the winner is in, but there are still a lot of teams on the trail. Keep watching!
Tail wags,
Zuma