Hello friends,
As most of you know, there are 2 routes the Iditarod takes. All mushers and canines leave Willow headed to Yentna, Skwentna, etc. to Ophir. This is where the trail splits. In even number years the racers take the northern route and odd number years they take the southern route. Why, then, is the 2018 race taking the southern route?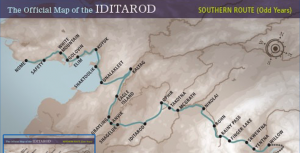 Iditarod teams have not been on the southern route since 2013 due to lack of snow. The villages of Shageluk, Anvik, Grayling and Eagle Island have missed out seeing my friends come through. They wish for us to come back. The race officials were ready to reconnect with these villages and get them to be part of the race once again.
There is one particularly hazardous part of the race (let me clarify, we canines love it, mushers not so much) and the trail breakers were concerned so they found an alternative route. It brings teams around a mountain on an old horse path instead of over it. One mile is all it will add to the race so everybody is happy. Woowoowooooooo! The southern route will be taken this year and next year for the 2019 race. Southern route . . . here we come!!
                                                                                                                  Tail wags,
                                                  Zuma