Tails from the Trail- Dog of the Month- Jonah!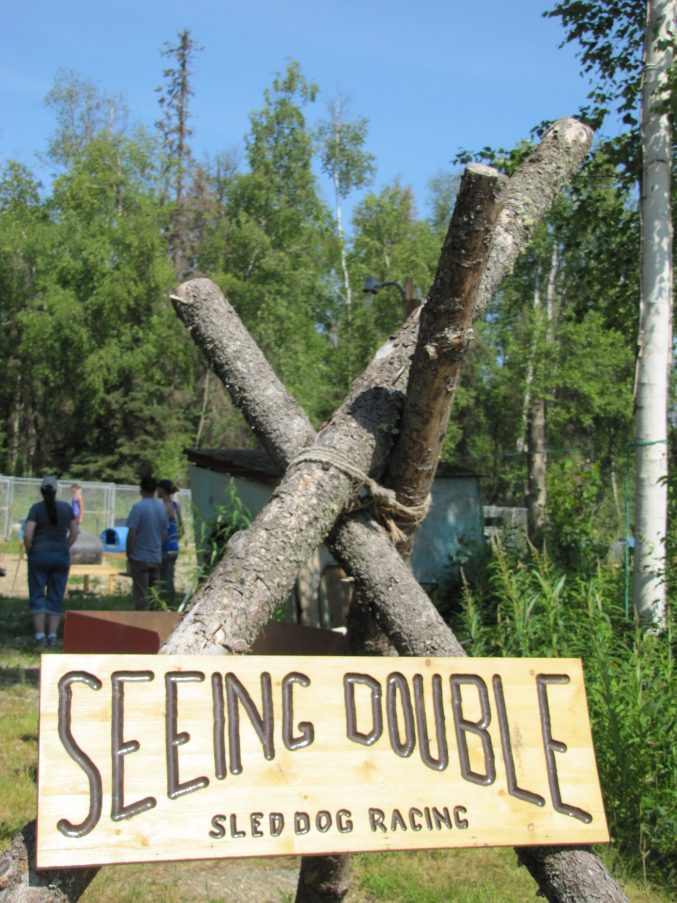 This month Kristy Berington shares about her special dog Jonah! Kristy, along with her twin sister Anna, own Seeing Double Sled Dog Racing in Knik, Alaska.  The 2020 Iditarod will be Kristy and Anna's 11th Iditarod.
"My special dog is Jonah. Jonah, who is now 11, was my first sled dog that I could call my own. He has had a unique story from the very beginning. I moved up to Alaska in 2007 to run dogs for Dean Osmar with my twin sister Anna. To make a long story short, Dean lost a bet with us about an Iditarod fact. Dean said, "Well, you won, what do you want?" 
Anna and I looked at each other and replied simultaneously, "A dog!" 
Dean said, "Deal."  Dean was very gracious and gave us an amazing opportunity. He had a pregnant female named Sally.  He said, "Take this dog, take care of her, raise her puppies, and then pick one out to keep."
Sally had five puppies. It was hard to pick out one, but there was something about the tri-colored male that pulled at my heartstrings. 
Jonah and I ended up running our first Iditarod together in 2010 and many more following that, 9 to be exact. We also ran our first Yukon Quest together in 2012. He ran many middle distance races and even won the Northern Lights 300 and Kusko 300. 
Honest, strong, smart, stubborn, determined, and sweet. Jonah is quite possibly the perfect sled dog.  Jonah has retired from competitive racing. He enjoys racing canicross every fall, going on free runs and going to schools or other functions to teach people about sled dogs and sled dog sports. 
I am so very blessed to have had this relationship with him, and now his grandson Hop Dog will carry on his legacy in the 2020 Iditarod."
Follow Kristy and Jonah's grandson Hop Dog during the 2020 Iditarod on Iditarod.com.   
Teachers with Veteran's Day approaching, I think about the words Kristy used to describe Jonah: smart, strong, honest, determined.  These are all character traits we could use to describe and honor our nation's veterans and the sacrifices they have made for us and our country.  Iditarod musher and founder of Battle Dawgs,  Rick Casillo honors veterans through mushing.  He works to "To empower our nation's heroes through therapeutic and exciting experiences by harnessing the natural splendor of Alaska's landscape and the majestic healing power of sled dogs." (Battle Dawgs vision statement)  What can you and your students do to honor our country's veterans this November 11th?