This Month's Question:  How do you decide which dog goes where in a team? Can they change places?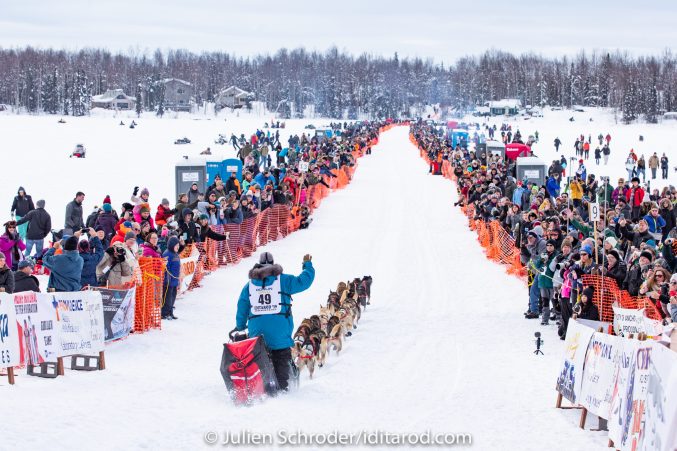 The sled dogs make a team. A team includes the leaders, the team dogs, and the wheel dogs.
Like a coach of a team like soccer or basketball, I as the musher want to know my dogs and what they may be best suited for on the team. During training and free running, I can observe which dogs like to run fast and are listening to my directions for the role as a leader. I like to try all of my dogs as leaders. It is good to know you can switch the dogs around to lead to give them a break if needed when leading.
All of the dogs get the opportunity to be team dogs. Some dogs, like students, have a preference for a play friend but it is good that all of the team members can get along.
The wheel dogs are often the strongest or biggest on my team. I like to be able to rotate my dogs into different positions and with different training partners so they learn to get along with each other.
On race day, I will make my team positions in best pairings for the conditions. On a snowy whiteout race day, I will choose my leader who is the most confident to lead in those conditions. If it is a hard paced fast trail, I would choose my fastest leader. Even during a race, I will rotate positions if it seems we need a different partner or leader.
By: Lynne Witte
Meet Our Q&A Expert: Lynne Witte, Iskristall Kennel, Michigan
Lynne's classroom teaching began in 1976. For 40 years she was a primary classroom teacher and coached middle school cross country and track. During those years she was a competitive marathon canoe racer and part of the United States Canoe Association as board member and delegate. She continues to be an active marathon canoe racer and part of Michigan's canoe racing leadership.
In 2000, her passion for teaching and dog sledding merged. She was able to travel to Alaska for the Iditarod. Under Cheryl Cheadle- Metiva's mentorship, she was able to take a leave from her classroom to experience the Iditarod as a volunteer, experience checkpoints, and be in Nome for the finish. She was able to share this experience daily with her classroom back in Michigan.
Beginning in 2004, she had her own sled dog and started skijoring. She then continued adding dogs to skijor and finally to train and run teams on sleds with mushers in Michigan.
In 2016, she retired from classroom teaching to pursue her passion to train and race sled dog teams. She was privileged to train some yearling teams with her four dogs as her leaders. In 2017, she ran a yearling team in the Yukon Quest 300.
She has continued to train and build a small Alaskan husky team to compete in mid distance races in the midwest. She has competed in the Beargrease, CopperDog, Midnight Run, and Tahquamenon races. Like classroom teaching, she is a student of mushing and a teacher for her team.