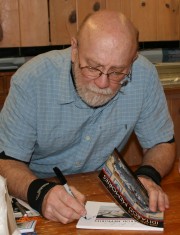 Jon Van Zyle turns his artistic talent to support the Iditarod Trail Sled Dog Race every year when he creates the official race poster. Beautifully done, each poster expresses an important race theme or historical viewpoint. The 2010 poster juxtaposes current racing against the backdrop of the history of running dogs in Alaska, showing a Native Alaskan dressed in fur clothing with his team snuggled in snow and a vet and musher in modern winter gear, the team wearing blankets or coats while resting on straw.
Jon ran the Iditarod in 1976 and 1979, a fact that he says surprises a lot of people. He says that folks are also surprised to learn his artwork is shown and sold worldwide. His first official Iditarod poster premiered in 1977. Jon's wife, Jona, is an artist in her own right, also. They collect Native Alaskan artifacts and photographs of sled dogs from their current dogs to dogs long ago in history. A replica of Balto's leather harness hangs in their home, thanks to Jona's friend who works with leather.
Jon arrived where he is now after a stint in the Army, working in Hawaii, and working for Sears designing stores. He says he has painted his whole life, and when he earned the same salary from his painting as he did working at Sears, he quit that job and stuck to painting. Jon illustrates books as well as creating the poster.
Jon says he'd consider his first poster his favorite because it was the first one he did, but that he really doesn't have a favorite one. Jon and Jona have a kennel of well-mannered Siberian huskies, and Jon's been into dogs for 50 years. They run dogs for recreation now, taking 300-400 mile trips together.
An Iditarod Hall of Fame inductee, Jon's posters are available in December before the race start.  Lucky people have posters personalized by Jon! Check www.iditarod.com for Jon's posters at the Iditarod Store.
By Martha Dobson, Finalist, Target® Iditarod 2011 Teacher on the Trail™, North Carolina