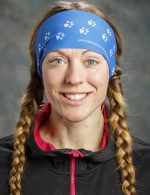 Kristy Berington is currently getting ready to run her 10th Iditarod! Most Iditarod and mushing fans know that Kristy has an identical twin sister, Anna, who also is a musher. Kristy also happens to be married to Andy Pohl, who finished his first Iditarod in 2018. Together, Andy, Anna and Kristy run Seeing Double Sled Dog Racing. Check out their website to learn more about them and mushing. 
Kristy loves mushing, dogs and staying active. She also loves all of her fans and supporters. I had the opportunity to ask Kristy some questions to get to know more about her. Check out her following responses: 
Who has been your most influential teacher, mentor or coach?
Dogs are some of the best mentors and teachers I have learned from throughout my mushing career. They have taught me patience, confidence, tolerance, endurance, love, dedication, trust and more. I have so much respect for my dogs and am consistently amazed by them.
What is one of your favorite memories from being on the trail?
My favorite memory has been meeting my husband on the 2014 Iditarod in Ophir. That year was particularly challenging. The trail was mostly dirt, rocks and ice. Shaktoolik had a raging storm that nearly stopped the race. Among all these obstacles, I was so fortunate to cross paths with him. I knew he was my soulmate the moment I met him. 
Can you recall the most challenging obstacle that you've encountered on the trail? What was it and how did you overcome it?
The most difficult circumstance I can recall was the Dalzell Gorge and the continuing trail beyond to Nikolai in 2014. There was no snow on the trail. It was littered with boulders that are normally blanketed with snow. All the lakes were glare ice. A lot of mushers and sleds were battered and bruised at the base of the mountain. The 2014 Iditarod is still remembered as the race of broken sleds, broken bones and broken dreams. It's the race I compare all races to as far as difficulty. 
Quitting was never an option for me and my team, so we just kept putting one paw or foot in front of the other until we made it to Nome.
When did you begin mushing? Who or what influenced you?
When I was 9 years old I started doing basic dog chores with my neighbor. She later let me race in the local 4 dog races. I really became interested in long distance racing following the Beargrease and the Iditarod. I was also really influenced by the Disney movie Iron Will. Such a good movie!
Do you have a "favorite dog story or moment" that you'd be willing to share?
My favorite moment? How about one of my favorites. There are lots of stories- humorous and epic- moments that will make your sides hurt with laughter, and some that will touch your heart, leaving you reaching for a tissue. 
One of my best lead dogs, Nicholas, started out as the worst sled dog ever. I wanted to find him a pet home because he wouldn't pull and constantly seemed bored on our runs. He ran in wheel, the position in front of the sled, all the time because I didn't want the other dogs to see his lack of participation. I only kept him because he was named after a sponsor's son. Bill would call me and ask, "How is Nicholas doing?" And all I could say was, "He's trying."
I always try every dog up in lead…because you never know when you'll find that diamond in the rough. It was in the 2011 Iditarod on my way to Kaltag in the blowhole leaving Eagle Island when Nicholas showed me his talent. 
My older lead dogs were tired of breaking trail. I put Nicholas up there, preparing to put him right back in wheel, when he shocked me. He put his head down, kept his tug tight and never looked back. He loved being in lead. He taught every lead dog I had from then on. Now he spends his days counter surfing and sleeping on the couch in between free running and long walks.
What advice would you give someone who is interested in getting into mushing?
Learn as much as you can from as many different mushers as possible. Read books about mushing. Compare the different kennel set ups, training techniques, diets, gear, etc. and decide for yourself which ones work best for you. It's a very expensive sport, so taking a year to help out a musher to get your feet wet is an excellent way to see if you are ready for the commitment. 
What is your favorite book?
As a kid, I really liked Gary Paulsen and his stories about the wilderness, and of course mushing. Some of the books that I enjoyed were Hatchet and Woodsong. Now as an adult, I've become more into ultra-running and inspiring nonfiction like Born to Run, by Christopher McDougall, and books by Dean Karnazes and Scott Jurek.
Who is your favorite musical artist and what is your favorite song?
I love listening to music all the time. Sometimes I enjoy the peace and serenity of the silence of mushing, but other times I want a sound track. It's amazing how a song can stamp your life and take you back to a specific experience. 
For example, my sister Anna will always think of her first trip down the Happy River Steps when she hears Shakira, "Hips Don't Lie." I love almost all music. My favorite artist is Nate Ruess. He has an album called Dog Problems. His music is fun and upbeat. My favorite song is by his band, Fun, called "It gets Better." It has the perfect 170 beats per minute that I prefer running my marathons and ultra-marathons to.
Were there moments when you were bored or lonely on the trail? If so, what did you do to pass the time?
I won't lie, mushing isn't all smiles and high fives. It can be exhausting, cold and even painful. But there's beauty in suffering. You really learn to appreciate the little things in life. I'm never lonely on the trail; when you're out with the dogs, you're with your best friends. 
Sometimes the hours or miles tick by really slowly, or the river meandering all looks the same turn after turn. But it's never boring.
Cake or Pie?
Ice cream!
Make sure to cheer on Kristy while she makes her way to Nome during this year's Iditarod!