Tails from the Trail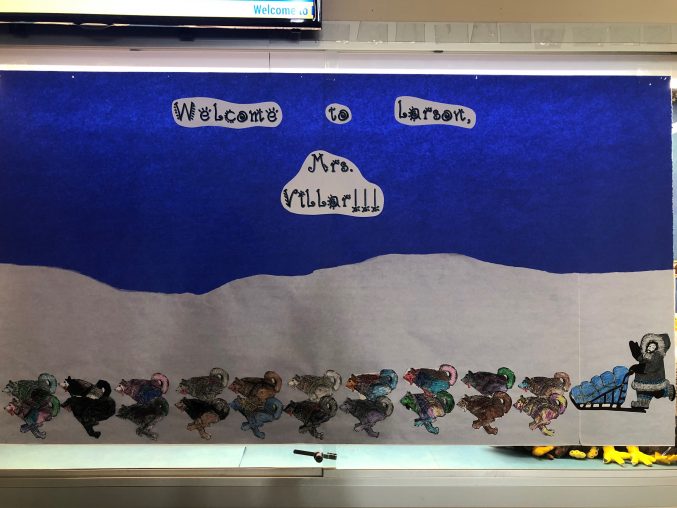 I have had the pleasure of spending the last few days visiting local schools in the Mat-Su Valley School District.  It has been so much fun being with the students, learning, and talking about the Iditarod! We even had time for some Sled Dog Hokey Pokey and games of Musher Says. Thank you to both schools for such a wonderful visit!
One of the amazing things that I learned about while visiting these schools is about the 1% for Art Program in Alaska.  This program states, "one percent of the budget of original construction, remodeling or renovation of municipal buildings, schools and facilities go toward art – if the budget is more than $250,000." This artwork comes in many forms, from stained glass windows to ceramic works that hang on the walls.  
A Tribute to Perseverance:
Who had the fastest Red Lantern finishing time? Cindy Abbott!    In 2017 Cindy Abbott finished the Iditarod in 12 days, 2 hours, 57 minutes, and 31 seconds.  In fact, this was the second time in Cindy's Iditarod career that she had received the honor of being awarded the Red Lantern, making her the only musher to receive the Red Lantern multiple times.  Cindy first earned the Red Lantern in 2015  with a time of 13 days 11hours 19 minutes 51 seconds. What is amazing is that in 2017 she beat her own 2015 time by over 24 hours! Cindy truly shows perseverance in all that she does, whether it is running the Iditarod or climbing Mount Everest.  To learn more about Cindy Abbott check out her website at http://speaking.reachingbeyondtheclouds.com/ 
What other duties does the Red Lantern recipient have when they reach the Iditarod finish line?  Stay tuned tomorrow….
Teachers:
The arts are a great way for students to express themselves both verbally and nonverbally. Click here for a lesson on art and poetry.