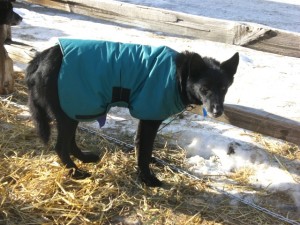 Dropped dogs are dogs that are removed from the race for one reason or another.  A dog that isn't feeling well, has an injury, isn't running well, is in season, or just doesn't have the attitude to race, are 'dropped' at checkpoints along the Iditarod Trail.
Veterinarians at each checkpoint are on duty to examine the dogs as they arrive or as they rest at a checkpoint.  If a dog is dropped at a checkpoint, the veterinarians take care of the dog while the dog waits for a ride on a plane back to Anchorage.  The musher's team goes on without the dog.
Dogs arriving back in Anchorage have a short stay at the Lakefront Race Headquarters Drop Dog Lot.  Veterinarians are on duty.  Vet techs as well as other volunteers, care for the dogs until they are picked up from the Lakefront dog lot. If a dog needs medical treatment, it receives it.  Most dogs are in excellent condition when arriving at the Lakefront. That fact is verified by a complete post race exam by the vets at the dog drop area.
Dogs rest comfortably on straw, sometimes covered in light blankets.  They are cared for, fed, given fresh water, and receive lots of pets and loving from the drop dog volunteers and tourists visiting race headquarters.
Dogs that can't be picked up before nightfall, are taken to the 'prison'  where they will be safe and well cared for during their short stay at that location while they wait for their dog handler or musher to pick them up.
Once dogs are 'home again at their kennel' they resume the normal activities involved with living at their kennel.  They get regular exercise, eat healthy meals, drink plenty of water, enjoy time with the musher, handler, and family, and dream about running the race again someday soon!