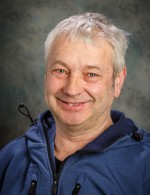 Ralph Johannessen
Bib Number:
54
Hometown:
Dagali, NORWAY
Biography
Ralph Johannessen, 56, was born and raised in Bergen, Norway. Ralph started mushing in 1973 after having grown up in a household with active hunting dogs. He has won all the long distance races in Norway, and is the reigning Norwegian long distance champion. His racing kennel is based at Dagali, close to the Hardangervidda national park, where he enjoys an active outdoor life at all seasons. He is a member of Hallingen Hundekoyrarlag.
Ralph became interested in racing the Iditarod after his good friend Robert Sørlie won his first champion title in 2003. Having raced at top level in Norway for numerous years, Ralph is now ready for a new challenge and will be bringing his own dog team from Norway to the Iditarod.
Ralph is the father of two adult children, Marte and Sondre.
Sponsors
Eukanuba
Provit
Studentpakken
Handlerimport
Dogbooties.com
2014 Standings
Checkpoint
Time In
Dogs In
Time Out
Dogs Out
Rest Time
Previous
Layover
Status
Distance
Enroute Time
Speed (mph)
8hr
24hr
Anchorage
3/01 11:54:00
12
Willow
3/02 15:44:00
16
Yentna Station
3/02 19:27:00
16
3/02 19:46:00
16
0h 19m
3h 43m
11.30
42
Skwentna
3/03 02:30:00
16
3/03 02:35:00
16
0h 5m
6h 44m
4.46
30
Finger Lake
3/03 07:36:00
16
3/03 10:54:00
16
3h 18m
5h 1m
7.97
40
Rainy Pass
3/03 14:05:00
16
3/03 18:12:00
16
4h 7m
3h 11m
9.42
30
Rohn
3/03 23:25:00
16
3/05 00:07:00
16
24h 42m
5h 13m
6.71
35
Nikolai
3/05 14:06:00
16
3/05 20:11:00
16
6h 5m
13h 59m
5.36
75
McGrath
3/06 01:55:00
16
3/06 02:02:00
16
0h 7m
5h 44m
8.37
48
Takotna
3/06 04:31:00
16
3/06 09:49:00
16
5h 18m
2h 29m
7.25
18
Ophir
3/06 12:10:00
16
3/06 14:10:00
16
2h 0m
2h 21m
9.79
23
Cripple
3/07 00:11:00
16
3/07 07:00:00
14
6h 49m
10h 1m
7.29
73
Ruby
3/07 15:44:00
14
3/07 23:44:00
14
8h 0m
8h 44m
8.02
70
Galena
3/08 05:32:00
14
3/08 10:31:00
14
4h 59m
5h 48m
8.62
50
Nulato
3/08 15:55:00
14
3/08 21:12:00
13
5h 17m
5h 24m
6.85
37
Kaltag
3/09 01:15:00
13
3/09 07:40:00
10
5h 25m
4h 3m
11.60
47
Unalakleet
3/09 17:30:00
10
3/09 22:02:00
10
4h 32m
9h 50m
8.64
85
Shaktoolik
3/10 05:09:00
10
3/10 12:34:00
10
7h 25m
7h 7m
5.62
40
Koyuk
3/10 20:10:00
10
3/11 09:42:00
9
13h 32m
7h 36m
6.58
50
Elim
3/11 15:17:00
9
3/11 19:10:00
9
3h 53m
5h 35m
8.60
48
White Mountain
3/12 01:49:00
9
3/12 09:50:00
9
8h 1m
6h 39m
6.92
46
Safety
3/12 15:59:00
9
3/12 16:00:00
9
0h 1m
6h 9m
8.94
55
Nome
3/12 18:45:50
9
2h 45m
8.00
22